language teaching
by carlos arenas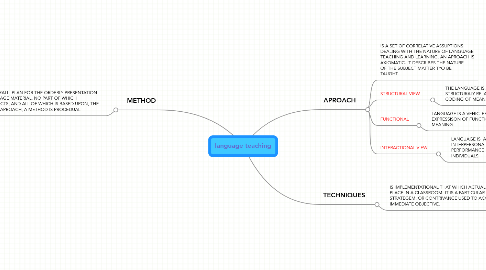 1. APROACH
1.1. IS A SET OF CORRELATIVE ASSUPTIONS DEALING WITH THE NATURE OF LANGUAGE TEACHING AND LEARNING. AN APROACH IS AXIOMATIC. IT DESCRIBES THE NATURE OF THE SUBJECT MATTER TYO BE TAUGHT.
1.2. STRUCTURAL VIEW
1.2.1. THE LANGUAGE IS A SYSTEM OF STRUCTURALY RELATED ELEMENTS FOR THE CODING OF MEANING
1.3. FUNCTIONAL
1.3.1. LANGUAGE IS A VEHICLEFOR THE EXPRESSISON OF FUNCTIONAL MEANING
1.4. INTERACTIONAL VIEW
1.4.1. LANGUAGE IS A VEHICLE FOR THE REALIZATION OF INTERPERSONAL RELATIONS AND FOR THE PERFORMANCE OF SOCIAL TRANSACTIONS BETWEEN INDIVIDUALS.
2. METHOD
2.1. IS AN OVERALL PLAN FOR THE ORDERLY PRESENTATION OF LANGUAGE MATERIAL, NO PART OF WHICH CONTRADICTS, AND ALL OF WHICH IS BASED UPON, THE SELECTED APROACH, A METHOD IS PROCEDUAL
2.1.1. SYLLABUS DESING
2.1.2. ROLES
2.1.2.1. TEACHER
2.1.2.2. LEARNER
2.1.2.3. MATERIALS
2.1.2.4. TYPES OF ACTIVITIES
3. TECHNIQUES
3.1. IS IMPLEMENTATIONAL THAT WHICH ACTUALLY TAKE PLACE IN A CLASSROOM. IT IS A PARTICULAR TRICK. STRATEGEM, OR CONTRIVANCE USED TO ACCOMPLISH AN IMMEDIATE OBJECTIVE.
3.1.1. CLASSROOM ACTIVITIES
3.1.2. BEHAVIOURS
3.1.3. IMPLEMENTATION OF THE DESING