ACIDS & BASES
by Tan Wanxuan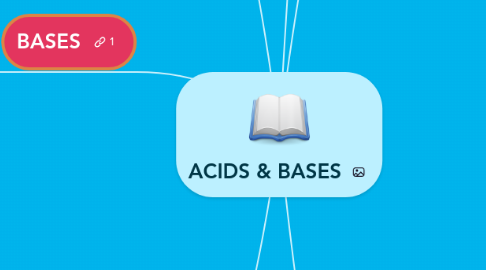 1. Uses of Acids
1.1. Sulfuric Acid
1.1.1. Manufacture of fertilisers
1.1.2. Manufacture of detergents
1.1.3. As battery acid in cars
1.2. Hydrochloric Acid
1.3. Ethanoic Acid
1.4. Phosphoric Acid
2. Uses of Bases and Alkalis
2.1. Magnesium Oxide
2.1.1. used as antacid
2.1.1.1. relieve gastric pain
2.1.1.2. make refractory bricks
2.2. Sodium Hydroxide & Potassium Hydroxide
2.2.1. used in the preparation of soap
2.3. Calcium Oxide (quicklime) & Calcium Hydroxide (slaked lime)
2.3.1. used in liming
2.3.1.1. neutralise excess acidity in soil / reduce acidity in soil
2.4. Ammonia Solution
2.4.1. used to make fertilisers
3. ACIDS
3.1. in aqueous solution produce
3.1.1. H+ ions
3.2. properties
3.2.1. 1. Have a sour taste
3.2.2. 2. Dissolve in water to form solutions which conduct electricity
3.2.3. 3. Turn blue litmus paper red
3.2.4. 4. React with reactive metals to form salt & hydrogen gas
3.2.4.1. METAL + ACID → SALT + HYDROGEN GAS
3.2.5. 5. React with carbonates and hydrogen carbonates to form a salt & water & carbon dioxide gas
3.2.5.1. CARBONATE + ACID → SALT + WATER + CARBON DIOXIDE
3.2.6. 6. React with metal oxides to form a salt & water ONLY
3.2.6.1. METAL OXIDE + ACID → SALT + WATER
3.3. can be classified as
3.3.1. WEAK ACIDS
3.3.1.1. ONLY PARTIALLY IONISE IN AQUEOUS SOLUTION
3.3.1.2. examples
3.3.1.2.1. Ethanoic acid
3.3.2. STRONG ACIDS
3.3.2.1. COMPLETELY IONISE IN AQUEOUS SOLTION
3.3.2.2. examples
3.3.2.2.1. Sulfuric acid
4. BASES
4.1. is soluble in water
4.1.1. ALKALIS
4.1.1.1. in aqueous solution produce
4.1.1.1.1. OH- ions
4.1.1.2. properties
4.1.1.2.1. Have a bitter taste
4.1.1.2.2. Turn red litmus paper blue
4.1.1.2.3. React with acids to form a salt & water ONLY
4.1.1.2.4. Give off ammonia gas when heated with ammonium salts
4.1.1.2.5. React with a solution of one metal to gove another metal salt & metal hydroxide
4.2. is insoluble in water
5. pH Scale
5.1. Acid
5.1.1. pH < 7
5.2. Alkalis
5.2.1. pH > 7
5.3. Neutral
5.3.1. pH = 7
5.4. Indicators
5.4.1. Universal
5.4.1.1. Red, Orange, Yellow (Acidic)
5.4.1.2. Green: Neutral
5.4.1.3. Blue, Indigo, Violet (Alkaline)
5.4.2. Methyl Orange
5.4.2.1. Red in Acid
5.4.2.2. Yellow in Alkali
5.4.2.3. pH range which changes color : 3-5
5.4.3. Screened methyl orange
5.4.3.1. Violet in Acid
5.4.3.2. Green in Alkali
5.4.3.3. pH range which changes color: 3-5
5.4.4. Litmus
5.4.4.1. Red in Acid
5.4.4.2. Blue in Alkali
5.4.4.3. pH range which changes color: 5-8
5.4.5. Bromothymol blue
5.4.5.1. Yellow in Acid
5.4.5.2. Blue in Alkali
5.4.5.3. pH range which changes color: 6-8
5.4.6. Phenolphthalein
5.4.6.1. Colorless in Acids
5.4.6.2. Pink in Alkali
5.4.6.3. pH range which changes color: 8-10
5.5. IMPORTANCE OF pH Our blood is slightly alkaline as it has a pH of about 7.4. When a person is given an injection, the substance being injected must have a pH of almost 7.4. If the pH of blood is changed by one unit, say to 8.3. THE PERSON WOULD DIEEEE.
5.6. IMPORTANCE OF pH OF SOIL Plants depend on the pH of the soil to be able to grow and develop. Most plants are not able to grow if the ph is below 5 or above 9. They grow best when the soil is neutral or slightly acidic.
5.7. CONTROL OF ACIDITY OF SOIL Plants grow best in neutral pH. Quicklime (calcium oxide) and slaked lime (calcium hydroxide) are commonly used to reduce acidity of soil.
6. Types of Oxides
6.1. Definition : A compound of oxygen and another element.
6.2. Formed when metals react with oxygen
6.2.1. Basic oxides
6.2.1.1. React with acids to form a salt and water. Insoluble in water. Exceptions...Sodium oxide and potassium oxide, dissolve readily in water to form alkalis. Solids at room temperature.
6.2.1.2. Example : calcium oxide + nitirc acid -> calcium nitrate + water
6.2.2. Amphoteric oxides
6.2.2.1. React with both acids and alkalis to form salts and water
6.2.2.2. Example: Hydrochloric Acid + Zinc Oxide -> Zinc chloride + water
6.3. Formed when non-metals react with oxygen
6.3.1. Neutral oxides
6.3.1.1. Neither acidic nor basic
6.3.1.2. Examples : water H2O , carbon monoxide CO , nitric oxide NO
6.3.2. Acidic oxides
6.3.2.1. React with alkalis to form a salt and water
6.3.2.2. Example: Sulfur dioxide + Water -> Sulfurous Acid