Bend EcoVillage or new name?!
by
raj solanki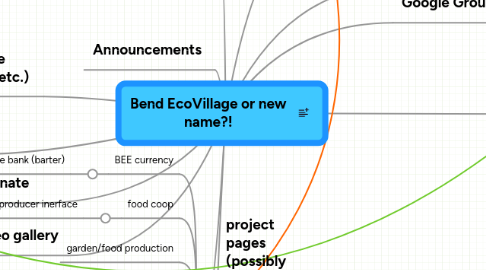 0.0
stars - reviews range from
0
to
5
Bend EcoVillage or new name?!
I like the simplicity of it - it is place specific (Bend) and yet can exist in this virtual space as well as in a physical space (which we have yet to find lol). Plus the acronym is sweet! I think our leader should be called "Wally"
Google Groups forums
Google Events Calendar
Calendar from each portal
project pages (possibly separate pages linked to CEP portal?)
BEE currency
food coop
garden/food production
progressive/democratic education
health/wellness
spirituality
I would suggest deleting from here if "The Temple" is adopted
resource sharing/recycling
eco-village
Image/video gallery
Donate
grants
Fundraising
Bend EcoVillage governance (meeting minutes, policies, etc.)
Announcements
Surveys/feedback
The Temple
would this be a page on the main navigation sidebar with spiritual content, or a page with the "products" tab? What is the content? I was thinking that Spirituality is such a major point of reference and encompases such a wide range of interests that it would benefit from having its own place/tab?/focus - I think a lot of people that are otherwise uninterested in operational aspects of the Eco Village will be drawn into the Village just by the attraction of greater spiritual connection... thus "The Temple" which for me is an umbrella phrase that is accessible and somewhat neutral.... cool!
Stratigic Planning Process
Visit Lost Valley in Eugene
Narrow Focus and Create Vision/Mission
Adopt Goverenace and conflict resolution model
Adopt Legal Status
Adopt Financial Model
Create Goals with Specific Objectives to be completed by individuals
Community Liaison
Responsible for outreach to other communities/organizations within Bend. Integration with other communities - for example local arts groups that might have members wishing to become involved with Locavore... Provides contact information Annnnd just how is the BEV related to the CEP?
Member Directory
Marketplace
Barter exchange
connect
classifieds