Augmented Reality (AR)
by
Marcel Knust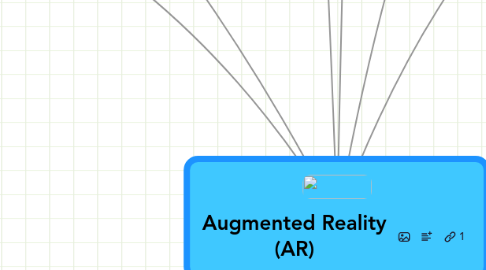 5.0
stars -
5
reviews range from
0
to
5
I created this map as part of my research at my university (in 2-2010). The information is largely based on the sources listed below. I would like to upgrade it from time to time. So please feel free to send me suggestions or information about changes/mistakes: mail@marcel-knust.de or @knust (twitter). Current AR examples in my blog: http://knust.posterous.com/ Notice the hyperlinks on many branches for more information. Sources used: Azuma, Ronald T.(1997): A Survey of Augmented Reality.     Azuma, Ronald T.; Yohan Baillot; Reinhold Behringer; Steven Feiner; Simon Julier; Blair MacIntryre (2001): Recent Advances in Augmented Reality     Bertelsen, Olav W.; Christina Nielsen (2000): Augmented Reality as a Design Tool for Mobile Interfaces     Billinghurst, Mark; Hirokazu Kato (2002): Collaborative Augmented Reality. In: Communications of the ACM, vol. 45, no. 7     Bimber, Oliver; Ramesh Raskar (2005): Spatial Augmented Reality. Merging Real and Virtual Worlds.     Jacob, Robert J.K.; Audrey Girouard; Leanne M. Hirshfield; Michael S. Horn, Orit Shaer; Erin Treacy Solovey; Jamie Zigelbaum (2008): Reality-Based Interaction: A Framework for Post-WIMP Interfaces     Kan, Tai-Wei; Ching-Hung Teng; Wen-Shou Chou (2009): Applying QR Code in Augmented Reality Applications.     Milgram, Paul; Haruo Takemura, Akira Utsumi, Fumio Kishino (1994): Augmented Reality. A class of displays on the reality-virtuality continuum.     Nilsson, Susanna; Bjön Johansson; Arne Jönsson (2009): Using AR to support cross-organisational collaboration in dynamic tasks.     Obst, Benjamin; Ludwig Tröller (2009): Augmented Reality. Ausarbeitung zum Seminar "Innovationsforum". SoSe 2009. Humboldt-Universität zu Berlin     Sairo, Mikko (2001): Augmented Reality. Helsinki University of Technology     Pair, Jarell; Laboratory 4 (2010): The Reality of Augmented Reality.   Wen, Howard; Computerworld.com (2010): Augmented reality: Pure hype or Next Big Thing in mobile? White, Sean; David Fend; Steven Feiner (2009): Interaction and Presentation Techniques for Shake Menus in Tangible Augmented Reality Zhou, Feng; Henry Been-Lirn Duh, Mark Billinghurst (2008): Trends in Augmented Reality Tracking, Interaction and Display. A Review of Ten Years of ISMAR.  
Business Models
User pays
to see
subscriptions
AR content stores
Corporate Pays
Advertising free content
to loyal customers
Education, Sports, cultural venues
Sponsor or Reseller
Local & Hyper Local
retailers pay for walk-in
Definitons
Real environment enhanced with virtual objects (optic, acustic, haptic, olfactoric)
on the RVC between VE (virt. Environm.), AV and Real Environment
Combination of reality and virtuality (Reality augmented)
Realt-time interaction with virtual objects
Registration of real and virtual objects (ideal: seamless)
Technologie that creates superimposing/precisely overlaying computergenerated objects on physical objects to suport functions and tasks in real-time (HCI for case-based support).
Related Fields
Virtual Reality (VR)
comp. generated, interactive 3D-environment, by which a person is surrounded
Environment ist mostly fiction
Real environment invisible
User interaction determines the creation of stimuli
Mixed Reality (MR)
full spectrum of variations between VR and real Environment
Classification attributes, World Knowledge (how much knows the system of the real world), metaphor of presence/Immersion (wie stark ist der Benutzer eingetaucht) > subjective, Degree of reality (reproduction fidelity, picture quality)
Real Environment > Augmented Reality > Augmented Virtuality > Virtual Environment
Augmented Virtuality (AV)
augmented virtual environment with multiple sensors/objects of the real world, Example: smell/sounds at the right position in the AV-world
History
'90 usage for maintenance and repair
today: consumer market reached, hype
1990 - Term coined by Thomas Caudell (Boeing)
Added Value + Visions
Cognitive Advantages
hiding oder overlaying real objects
view information hard to perceive with own senses
get information which is not availabe on other channels (tv, newspapers, ...)
Providing experiences
Alleviation of taks (support of real challenges)
closer to Face-to-face with virtual objects and individual views
Präsenzgefühl u. nonverb. Komm. wahrnehmen (vs. Videokonf.) feeling of presence + recognition of nonverbal communication (vs. Videoconference)
Remote Collaboration
interactive advertising
creating natural, immersive metaphors/easy to understand (vs. e.g. bluetooth advertising)
Multimodal UI + AR
tactile control (connection of physical and virtual objects), most frequent AR input method
intuitive and direct Interaction (no WIMP UI , small gulf of execution)
based on experiences and world knowledge of the users
encourages learning, explorative, low mental loadlern
multimodel = combination of modalities like language, keyboard, gestures, touch,..
coexisting perception of real and virtual objects
cost reduction (training, print, time,...)
long-term objective: perfect mixture/connection of reality and virtuality
New source of revenue for publishers?
Industry
Maintenance, Tracking Keys/Marker create 3d-animated guides
Development, Architectural planing and preview of consequences
Remote control
Entertainment
Sport broadcasting (Infos+Advertisement)
Acting (Blue Screen)
AR Games, AR Quake
Art and installations
Marketing
3D-Product-view, Terminals/Kiosk
furnishing/testing/fitting with virtual models of real world objects
commercial overlays, Banner, virtual object models, layers for different target groups/viewers, combined with coupons
stationary
mobile
Education
interactive learning
Edutainment + Tourism, historical information overlays
Health
Training (inexperienced doctors)
support for operations, 3d-x-ray-modell of the patient, minimal-invasive surgery
Annotation of real world objects
Libraries and museums (Informationen to the exhibits)
Navigational support, e.g.: Traffic view (nightvision +infrared)
on Buildings, Machines, ..., e.g.: farm performance reporting, e.g.: Restaurant info outdoor, e.g.: construction maps
PIM (with post-it like information dropping)
Personal/Commercial Data Presention (like websites attached to real world objects)
Path planing for robots
indirect control and advance planing (lag of reaction, no direkt control possible)
Military
targeting and navigation, HUDs in air traffic
Training, with Bots
Crisis management group
Koordination- u. Einsatzplanung, Beispiel: Waldbrand (Missverständnisse Terminologie)
USPS Priority Mail Virtual Box Simulator
find the right size for your packet
Topps 3D Live Trading Cards
3D-Animationen of sport stars
Zugara Webcam-based shopping
virtual fitting of clothes
mobile AR Browser
Wikitude, Layar, NextTube
QR Codes for fiducials
Quick Response Code as markers
Remote control and guide with PDA
Barcodescanner
Sixth Sense Project
Pico-Projector+Camera+colored markers (visual tracking fiducials)
SAP BMW Supply Chain
Picker support with HMD
Make-up Kiosk Fujitsu Tokio
Face Recognition
Trends + Future
Mobile AR
Prozessoren, Sensoren, Grafikkarten, Linsen, RFID besser u. Massenmarkt
shift of basic to product research (Interaction technologies, Mobile AR,...)
Ubiquitous Tracking combined with new sensors
dynamic network of allocated sensors (GPS, RFID, WLAN,..)
miniturization of technology in objects of the daily life
high bandwidth networks (UMTS, LTE)
HMD improvements
Speed, flexibility, resolution (AMOLED (organic light emitting diodes), weight, egornomics, cost, wireless
form factor sunglasses would be a break-through, e.g.: Skishades by Zeal Optics (GPS, Sensoren), different opinions concerning feasibility
Pico-Projectors
cellphone integration, mini projectors in the size of a matchbox are in production
Stronger immersion
smell, taste, feeling,..
react on user behaviour
when is it disturbing?
usage for cooperative work
AR at the mass market + embedded in various systems
developers, investors, analysts and consumers notice the possibilities and create solutions
Higher realism
cf. animations in movies (25 years to reach photo-realism)
See-through displays can become the sony walkman of the early 21th century (Feiner 96)
market potential mobile AR (2009: 1 Mill; 2010: over 700 Mill $ Jupiter Research)
multimodal interaction
AR continous what the internet started (Perey Research & Consulting)
Enabling Technologies
Basis structure
Scene Generator (Hard- u. Software zum Rendern)
Display Device ()
Tracking u. Sensing
Interaktionstechnik (IO)
Trackinggerät mit Comp. verbunden, der Umgebungsdaten verarbeitet u. Rückmeldung an das UI liefert, das Informationen einblendet
Tracking + Registration
sichtbasiert (visual-based), feature-based, Marker-based, künstl.: fiducials, 2D-barcodes, LEDs, Magnetfelder,.., sehr genau, Kalibrierung/Registrierung nötig, natural features, natürl Umgebungseigenschaften: Texturen, Linien,..., Trend, Übereinstimmung von Bildeigenschaften, model-based, Abgleich gespeicherter Objektmodelle (2d/3d CAD), erkennen von Kanten (Licht, Farbverlauf), keine Kalibrierung, masch. Lernen, Nachteil bei Beleuchtung, Bewegung, Nachteile, langsamer als sensoren, Bildverarbeitung zur Positionsbestimmung, Vorteile, dynamische Fehlerkontrolle
Sensoren (sensor-based), magnetische, akustische, optische, mechanische, infrarot, rfid, geschwindigk., gewicht, ..., Nachteile, Störeinflüsse, ungenau
hybrid, Kombi aus visual+sensor robuster, Beispiel: GPS + Bewegungssensoren für Outdoor-Tracking, Höhere Genauigkeit
Tracking = Position+Perspektivische Orientierung Nutzer
Registration= Referenzierung/Ausrichugn virtueller an realen Objekten
größte AR Herausforderung
Visualization
HMDs (head mounted/worn displays), Optical see-through (OST), Vorteile, Einblendung in normale Sicht, kostengünstiger als VST, keine Verzögerung, Sicht auch bei Stormausfall, Nachteile, keine realisitische Synchronization der Overlay-Objekte (Schatten...), Festlegung der Lichtdurchlässigkeit/Blende, benutzerabhängige Kalibrierung/Head-tracking, halbtransparente Overlays, teildurchsichtige Spiegel, die Licht des Monitor reflektieren, Video see-through (VST), Closed-View HMD, in den meisten aktuellen Systemen, Vorteile, Bildkombinationsmöglichkeiten/Blenden, Konsistenz künstl.+realer Ansicht, Verzerrungen am Bildrand einfacher zu berechnen (wide field of view), Verzögerungsausgleich virt. u. Realbild, Nachteile, Zeitverzögerung (Premixing Videostreams), Geringere Auflösung der Umgebung (Kameraabhängig), Einschränkung durch Kamerabewegungsfeld, Videobild der Realwelt mit Einblendungen kombinieren (Chroma-Keying oder Tiefeninformation), Retinale HMDs, Zukunftspotential bei Weiterentwicklung, Vorteile, hell, energieeffizeint u. höhere Auflösung, weitere Sichtfeld als Displays, Tiefenschärfe u. Wahrnehmung besser, Nachteile, meist monochrome (rot) - Farblaser teuer, nicht dreidimensional (stereoskopisch), Bilder mit schwachem Laser über Splitter/Combiner auf Retina des Auges projiziert, Head mounted projective displays (HMPDs), Vorteil, breiteres Sichtfeld, gekrümmte Oberflächen möglich, paar kleiner Projektoren, das auf Reflexionsobj. der Umgebung projiziert, Nachteil, Helligkeit, Auflösung gering, Umgebungslicht, teilw. Projektionsoberflächen nötig, Nachteile HMDs, limitiertes Sichtfeld, wenig Tiefenwahrnehmung, limitierte Auflösung, Größe u. Gewicht, Simulatorübelkeit, Multi-user Anwendung nur eingeschränkt möglich, Kalibrierung aufwending, meist genutzte AR-Technik (Helme > Brillen), mobile/wearable systems (tragbare Tech.)
Spatial /spatially aligned Displays, Projektoren (projecton-based spatial displays), Beamer auf die Umgebung, Nachteil: Schattenwurf, nur auf Objekten darstellbar, OST (Spatial), fixierte OST Variante, Kombinierer kann gekrümt sein, Hologramme, VST (Screen-Base), fester Bildschirm mit HCI-Eingabe, Window of the World, in Umgebung eingebette Anzeigetechn. mit gleichen Komp. wie HMD, Nachteile, nicht mobil, Beleuchtung, meist keine direkte Interaktion mit Obj. hinter Optik, Vorteile, günstig, Sichtfeldgröße (bei Projektor), Ergonomie, Gewöhnung + weniger Übelkeit, höherer Realismus zu HMDs
Handheld Displays, HMDs ersetzen?, Displaymedium mit AR-Overlay (alles in einem Gerät), PDA, Tablet, Handy, meist VST, Vorteile, wenig störend, sozial akzeptiert, Massenmarkt, Nachteile, schwache Hardware (Bildberechnung), wenig Trackingvarianten, begrenztes Sichtfeld, wirkt größer durch Bewegung (Parks Effekt), in der Hand gehalten, weniger immersiv
case specific technology selection
Problems
User Interface
Kollab.Teilnehmer gemeinsames Veständnis des virt. Raums trotz verschied. Sichten
welche Bewegung welche Funktion (tangible), Visuelle Hinweise/Anleitung
Information Overload, Filter Solutions, Frown!, Personal Filter Layers
usability (sozialem, emotionale, kulturelle Unterschiede)
Evaluation meist traditionelle UX Methoden für GUI, AR verändert die Aufgabe > Iteration nötig (Envisioned World Problem)
Objektauswahl fehleranfällig (mensch u. maschine)
GUI-Optionen, Glove/Hand-Based (Beispiel: Pinching), Prob-Based/Phyisisch (Beispiel: fiducial marker), Auswahl: schütteln, kippen, Zeigen, Nähe,...
Natural Usage
Bewegungseinschränkung
schwere Ausrüstung
Tracking
Kalibrierung (Hardware)
Genauigkeit (Millimeter u. wenige Grad)
Mobilität
Beleuchtungsunterschiede
Registration
Statische Fehler, optische Verzerrung (kompensierbar), Trackingfehler (schwierig), mechanische Fehler (Hardwarekonstruktion), Kalibrierungsfehler (Pupillendistanz, Abstände, Marker..)
Dynamische Fehler, Latenzzeiten/Systemverzögerung bei Bewegung (Positionsvorhersage)
Creating Added Value
keine Spielereien
Bedarfe u. Nutzensanreiz
Displays
Farbe (monochrom-Farben
Sichtfeld
Auflösung
Okklusion (Verdeckung/Überlagerung)
Kontrast, hohes Farbspektrum der Realität schwer zu erreichen
Tiefenschärfe, Distanzwahrnehmung virtueller Objekte
Hardware Costs
Energy consumption
Standard data formats
Entwicklung bei AR Browsern (.KML)(ARML=augmented reality markup language)
AR Consortium
Social + Political Problems
Gesundheitsgefährdung, Arbeitsplatzersatz, Effizienz,..
Ethikfragen (Abhängigkeit, Privatsphäre)
mobile computing performance
calculation of graphics
Software/Frameworks
Browser based
ARML (Augmented Reality Markup Language)
Wikitude API
Mixare, Open Source Augmented Reality Engine
Image Recognition
kooaba API
meatio Junaio API
Fern
tracking libraries
AR Toolkit, for ActionScript(AS3), FLARToolkit (for AS3), ARTisan (for AS3)
AR ToolkitPlus
ARTag
this branch is growing...
marker-based
metaio Unifeye
CyberCode