Augmented Reality (AR)
by
Marcel Knust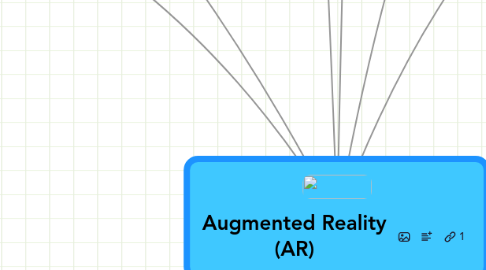 5.0
stars -
5
reviews range from
0
to
5
I created this map as part of my research at my university (in 2-2010). The information is largely based on the sources listed below. I would like to upgrade it from time to time. So please feel free to send me suggestions or information about changes/mistakes: mail@marcel-knust.de or @knust (twitter). Current AR examples in my blog: http://knust.posterous.com/ Notice the hyperlinks on many branches for more information. Sources used: Azuma, Ronald T.(1997): A Survey of Augmented Reality.     Azuma, Ronald T.; Yohan Baillot; Reinhold Behringer; Steven Feiner; Simon Julier; Blair MacIntryre (2001): Recent Advances in Augmented Reality     Bertelsen, Olav W.; Christina Nielsen (2000): Augmented Reality as a Design Tool for Mobile Interfaces     Billinghurst, Mark; Hirokazu Kato (2002): Collaborative Augmented Reality. In: Communications of the ACM, vol. 45, no. 7     Bimber, Oliver; Ramesh Raskar (2005): Spatial Augmented Reality. Merging Real and Virtual Worlds.     Jacob, Robert J.K.; Audrey Girouard; Leanne M. Hirshfield; Michael S. Horn, Orit Shaer; Erin Treacy Solovey; Jamie Zigelbaum (2008): Reality-Based Interaction: A Framework for Post-WIMP Interfaces     Kan, Tai-Wei; Ching-Hung Teng; Wen-Shou Chou (2009): Applying QR Code in Augmented Reality Applications.     Milgram, Paul; Haruo Takemura, Akira Utsumi, Fumio Kishino (1994): Augmented Reality. A class of displays on the reality-virtuality continuum.     Nilsson, Susanna; Bjön Johansson; Arne Jönsson (2009): Using AR to support cross-organisational collaboration in dynamic tasks.     Obst, Benjamin; Ludwig Tröller (2009): Augmented Reality. Ausarbeitung zum Seminar "Innovationsforum". SoSe 2009. Humboldt-Universität zu Berlin     Sairo, Mikko (2001): Augmented Reality. Helsinki University of Technology     Pair, Jarell; Laboratory 4 (2010): The Reality of Augmented Reality.   Wen, Howard; Computerworld.com (2010): Augmented reality: Pure hype or Next Big Thing in mobile? White, Sean; David Fend; Steven Feiner (2009): Interaction and Presentation Techniques for Shake Menus in Tangible Augmented Reality Zhou, Feng; Henry Been-Lirn Duh, Mark Billinghurst (2008): Trends in Augmented Reality Tracking, Interaction and Display. A Review of Ten Years of ISMAR.  
Business Models
User pays
Corporate Pays
Education, Sports, cultural venues
Local & Hyper Local
Definitons
Technologie that creates superimposing/precisely overlaying computergenerated objects on physical objects to suport functions and tasks in real-time (HCI for case-based support).
Related Fields
Virtual Reality (VR)
Mixed Reality (MR)
Augmented Virtuality (AV)
History
'90 usage for maintenance and repair
today: consumer market reached, hype
1990 - Term coined by Thomas Caudell (Boeing)
Added Value + Visions
Cognitive Advantages
Alleviation of taks (support of real challenges)
interactive advertising
Multimodal UI + AR
coexisting perception of real and virtual objects
cost reduction (training, print, time,...)
long-term objective: perfect mixture/connection of reality and virtuality
New source of revenue for publishers?
Industry
Entertainment
Marketing
Education
Health
Annotation of real world objects
Path planing for robots
Military
Crisis management group
USPS Priority Mail Virtual Box Simulator
Topps 3D Live Trading Cards
Zugara Webcam-based shopping
mobile AR Browser
QR Codes for fiducials
Remote control and guide with PDA
Sixth Sense Project
SAP BMW Supply Chain
Make-up Kiosk Fujitsu Tokio
Trends + Future
Mobile AR
shift of basic to product research (Interaction technologies, Mobile AR,...)
Ubiquitous Tracking combined with new sensors
HMD improvements
Pico-Projectors
Stronger immersion
react on user behaviour
usage for cooperative work
AR at the mass market + embedded in various systems
Higher realism
See-through displays can become the sony walkman of the early 21th century (Feiner 96)
market potential mobile AR (2009: 1 Mill; 2010: over 700 Mill $ Jupiter Research)
multimodal interaction
AR continous what the internet started (Perey Research & Consulting)
Enabling Technologies
Basis structure
Tracking + Registration
Visualization
Problems
User Interface
Natural Usage
Tracking
Registration
Creating Added Value
Displays
Hardware Costs
Energy consumption
Standard data formats
Social + Political Problems
mobile computing performance
Software/Frameworks
Browser based
Image Recognition
tracking libraries
this branch is growing...
marker-based