Web 2.0 Tools: By Gillian Baehr
by Gillian Baehr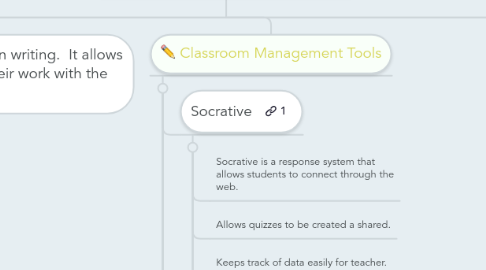 1. Communication Tools
1.1. Twitter
1.1.1. Twitter is a form of social media that allows you to connect with other educators and classrooms.
1.1.2. Allows students to share their ideas and thoughts with others.
1.1.3. Allows them to beware of daily events and meet other students their age to make connections and learn from.
1.2. Skype
1.2.1. Skype allows you to make face to face video calling.
1.2.2. It allows you to connect with everyone that has the Skype platform all over the world.
1.2.3. Great tool for having students communicate with others that wouldn't be possible without this tool.
1.3. Google Hangouts
1.3.1. Google hangouts allows you to make face to face video calling.
1.3.2. This is linked to your Google + account.
1.3.3. Allows you to chat by typing with the person or others during the phone call.
1.3.4. Allows multiple people to be on the same call.
1.3.5. This tool can be used to communicate with other classrooms for things such as book talks, cultural exchanges, and mystery hangouts.
1.4. Kid Blog
1.4.1. This is a great tool for allowing students to have their own blogging platform.
1.4.2. It allows you to accept or deny all posts before they are submitted.
1.4.3. Allows an entire class to maintain under one site for parent or child access.
1.4.4. Great tool when blogging with classrooms around the world. Setting up something like a quadblog makes it easy for the classrooms to locate other children's blogs.
1.5. Edmondo
1.5.1. Edmondo provides a safe way for your class to communicate and collaborate together.
1.5.2. Can post assignments, discussions, polls, and more for students to access.
1.5.3. Can also be used as a collaboration tool for educators.
1.6. Blogger
1.6.1. Blogger in an online blogging tool.
1.6.2. You can create reading lists of people whose blog you enjoy reading.
1.6.3. Links with your Google account.
1.6.4. Easy to get started.
1.6.5. Blogger would be a great way to begin your own professional blog. You can encourage those in your building to begin the blogging process so they can in turn use blogging in their own classrooms.
2. Collaboration Tools
2.1. Today's Meet
2.1.1. This online tool can be accessed by simply givine the url.
2.1.2. Students and Educators can type thoughts and answers into a group chat format.
2.1.3. This tool is great when having a discussion or wanting to hear everyone's ideas about a certain topic.
2.2. Google Docs
2.2.1. Allows you to create documents, spreadsheets, forms, and more that can all be shared with multiple users via email.
2.2.2. Syncs with your Google Account
2.2.3. Can easily create groups to share documents with easily and quickly
2.2.4. Constantly saves your work from being lost and even offers a revision history to go back in something is lost.
2.3. Crocodoc
2.3.1. This tool allows you to download a pdf or file that can be annotated using features such as a pen to underline, type text, and more.
2.3.2. This tool is great for saving from having to make copies. Students can annotate the worksheet or file and save it to their documents.
2.3.2.1. Great tool for reading passages and allowing students to underline or find key information from the passage.
2.4. Flock Draw
2.4.1. This free online whiteboard allows you and multiple users to draw similar to a whiteboard app.
2.4.2. It offers various colors and shapes.
2.4.3. This could be used when teaching math concepts to practice while having another student be the coach or is seeing their work without being right next to them.
2.5. Storm Board
2.5.1. Allows the user to post ideas on sticky notes on the brainstorm board. Multiple users can access the same board by giving a link or adding their email address.
2.5.2. Users can comment on the various sticky notes and have a discussion.
2.5.3. Offers templates such as compare and contrast that users can use to share ideas using the sticky notes
2.5.4. This tool could be used to allow students to take notes and share ideas within a small or large group. Teacher could use whole group or during staff meetings to allow everyone to share ideas.
2.6. Thinglink
2.6.1. Thinglink Allows you to create interactive images and include links, videos, and more.
2.6.2. It has capabilities for teacher account to control and manage students.
2.6.3. Allows of multiple users to edit and create.
2.6.4. Could be used to present new information to students, provide resources for students, or even as a creation tool for small groups of students.
3. Google Docs is a great tool to use when writing. It allows students to work together and share their work with the teacher or peer.
4. Classroom Management Tools
4.1. Socrative
4.1.1. Socrative is a response system that allows students to connect through the web.
4.1.2. Allows quizzes to be created a shared.
4.1.3. Keeps track of data easily for teacher.
4.1.4. Allows quiz to be open for any amount of time selected by teacher
4.1.5. Scorative is great for a quick formative assessment of your students in any subject area.
4.2. Infuse Learning
4.2.1. Infuse Learning is a response system that allows students to answer using various devices through the web.
4.2.2. It has a feature that allows answers to be drawn.
4.2.3. Keeps track of results and data for teacher.
4.3. Nearpod
4.3.1. Nearpod is a tool that allows you to create presentations including videos, pdf files, and more.
4.3.2. Can upload a slideshow into nearpod and add quiz questions that are mutliptle choice short answer and even survey questions.
4.3.3. Allows you to share student answers to all students who are logged in. Doesn't not show student name so discussions could be had about responses. Can also share multiple choice and survey percentages with students.
4.3.4. This took is great when introducing a new concept and allows all students to participate in discussions.
4.4. Jump Rope
4.4.1. Jump Rope is an online grade book for standards based grading.
4.4.2. It allows you track feedback on assignment as they work towards mastery.
4.4.3. Can select which assignments link to Common Core State Standards.
4.4.4. This tool can help teacher create an online grade book that be accessed from the web. It will help keep a teacher more organized with their grading.
4.5. Google Calendar
4.5.1. Google calendar is an online calendar that is synced with your Google account.
4.5.2. Allows you to set repeating events and timers for reminders.
4.5.3. Allows you to create an event and invite others using their email for a quick response time. You can even send extra reminders a few days/hours before event or make changes when necessary.
4.5.4. Google calendar is a great tool to link to your classroom website so that parents can see upcoming events. It is a also a great tool for teachers to keep track of school events and committee meetings.
4.6. Lucidpress
4.6.1. This can also be used a presentation tool but works great for creating online magazines or newsletters.
4.6.2. Offers a variety of easy to use templates.
4.6.3. This tool is great to use when creating your classroom newsletter.
4.6.4. Can also be used for collaboration by sharing access to multiple users.
5. Presentation Tools
5.1. Tackk
5.1.1. Tackk allows you to create an online poster.
5.1.2. You can change backgrounds, designs, and fonts.
5.1.3. You can add vidoes, links, pictures, and more.
5.1.4. Tackk is a great tool to create online anchor charts that can be uploaded and linked to your classroom website.
5.2. Prezi
5.2.1. Prezi is a unique presentation tool that creates a presentation that flows in a variety of ways rather than a simple slideshow.
5.2.2. There is a multiple templates to use.
5.2.3. You can add links, pictures, and more to the presentation.
5.2.4. Students can use these templates to create their own presentation of a topic from reading, math, or social studies.
5.3. Time Toast
5.3.1. Timetoast allows you to create an online timeline.
5.3.2. You can add pictures and links to your timeline.
5.3.3. Customization for any dates and number of events/years.
5.3.4. Great tool to present about famous people of events.
5.4. Haiku Deck
5.4.1. Create slideshow presentations using pre-made templates.
5.4.2. Allows you to add pictures, text, and links.
5.4.3. Great presentation tool for reading strategies or social studies projects.
5.5. Educreations
5.5.1. Presentation tool that allows you to add text, drawings images, and even audio.
5.5.2. Easy to use tool for students.
5.5.3. Can share presentations via email or upload to location.
5.5.4. Great tool for students to solve various math problems while explaining their thinking using the audio feature.
5.6. Go Animate
5.6.1. Create animated videos to present information
5.6.2. Videos are engaging and unique.
5.6.3. Students can create presentations to share their new learning.