Team Up: Teaching Composition in the 21st Century March 4-5; Phoenix, AZ
by
shelley rodrigo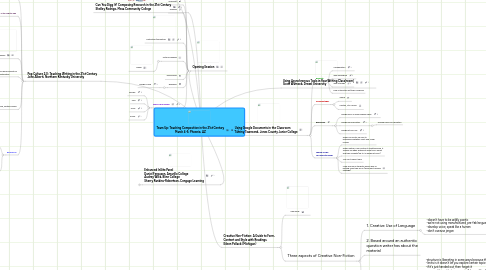 0.0
stars - reviews range from
0
to
5
Opening Session
The prompt was to think of one word that sums up the "problems" with teaching composition. We discussed ideas about how to use this method, primarly first day of class stuff:    
Assessment
They were surprised that everyone wasn't sitting at the Assessment table. Discussed the difficulty of balancing academic freedom with consisty that is required to impliment programatic assessment.
Grammar
Clarity of thought and construction of that thought in discourse.  
Grading
With the shift to a consumer culture students are customers that expect a certain outcome once they've paid tuition. They expect high results (A or B) with minimal requirements. A sense of entitlement. Also, we are just a field that has accessive amounts of grading and that is problematic.
THE REBEL TABLE Terms folks had included: perception, apathy, engagement, motivation Discussed the problem with the negative images the culture at large has of "writing", including the images held be administrators and colleagues. Shelley made a quick gallery "images of writing" from CC images in Flickr.
Critical Thinking
"Critical Thinking" is a contested term because for students "critical" equates to "criticize" and for faculty equates to "challenge." They also discussed the "culture of opinion" where "it's my opinion therefore 'ok'" They wanted to streamline to just "thinking."
Technology
The table wasn't very active. :-(
Research
We talked about students needing to better focus their research questions and using required conferences (using Google Voice) to help them focus. We also talked about research problems being about students not willing to engage multiple perspectives and/or move beyond the one "golden" resource they find.
This word cloud image was made using Wordle, screen captured using Jing, pushed to Flickr to use Picnik as a quick photo editor/cropper. The image resides at Flickr.
I asked Scott to post his detailed to presentation to SlideShare...he did!
Using Google Documents in the Classroom Tammy Townsend, Jones County Junior College
Benefits
Disadvantages
Resources
Some of these are from Tammy, others added by Shelley
Tammy's Tips: You Need to Know
TOOLS
REASONS
Pop Culture 2.0: Teaching Writing in the 21st Century John Alberti, Northern Kentucky University
Started with Cultural Markers Quizzes
Pop Culture in the Digital Age
Wikipedia
He is giving a lesson on all the functionality of wikipedia to demonstrate it is not only fluff.
A New Old Environment for Writing Instruction
Return to Writing, Writing Means:
Resources
Creative Non-Fiction: A Guide to Form, Content and Style with Readings. Eileen Pollack (Michigan)
New node
Three aspects of Creative Non-Fiction
New node