Executive Summary of Robert's Rules of Order: Project Details: Robert's Rules of Order: Newly Revised, 10th edition is over 700 pages long! This is much too long for you to read and digest on your own in 11 weeks, so you are going to work together with a team to summarize it. Your assignment is to work as a group to produce an executive summary of Robert's Rules of Order which can be easily read and understood in 10 minutes or less. Your intended audience is a busy professional (such as yourself) who has just joined an organization which uses Robert's Rules to organize its meetings. The executive summary must take the form of a slideshow presentation. Microsoft Powerpoint is recommended. Your presentation should not be too short or too long. Don't leave out anything essential, but don't go into unnecessary detail either. (Most groups in the past have had success with a 25-30 slide presentation) Due Date: The presentation is due at the end of Week Nine . Grading and Evaluation Your grade on this assignment will have two components: The slideshow presentation your group produces (50%) Your participation in the team process (50%) Your slideshow presentation will be graded based on the following criteria: Content (60%) Topic covered thoroughly Enough information given to understand topic Did not exclude any important information or include any unnecessary information Design (40%) Very creative Easy to read and follow Did not include any unnecessary graphics A Team Member Evaluation Form will be used to evaluate your participation in the team process. You will be evaluating yourself and your team members. Your team members will be evaluating you and giving you feedback. Your instructor will be reading your evaluations of your team members and their evaluation of you.
by Will Gabay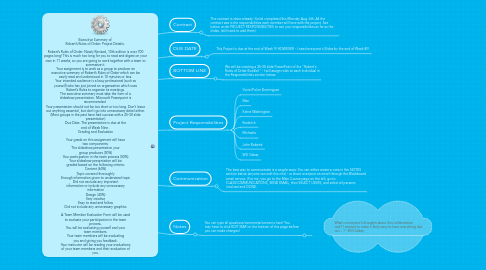 1. Project Responsibilities
1.1. Yuniel Polier Dominguez
1.2. Max
1.3. Keirra Washington
1.4. Roderick
1.5. Michaela
1.6. John Roberts
1.7. Will Gabay
2. Contract
2.1. The contract is done already. Yuniel completed this Monday Aug. 4th. All the contract was is the responsibilities each member will have with the project. See below under PROJECT RESPONSIBILITIES to see your responsibilities as far as the slides. (still need to add them)
3. Communication
3.1. The best way to communicate is a couple ways: You can either create a note in the NOTES section below (anyone can edit this info) - or shoot everyone an email through the Blackboard email service. (For me, you go to the Main Course page,on the left, go to CLASSCOMMUNICATIONS, SEND EMAIL, then SELECT USERS, and select all persons involved and DONE.
4. Notes
4.1. You can type all questions/comments/concerns here! You may have to click EDIT MAP on the bottom of this page before you can make changes!
4.1.1. What is everyone's thoughts about this collaboration tool? I wanted to make it fairly easy to have everything laid out....? - Will Gabay
5. DUE DATE
5.1. This Project is due at the end of Week 9! HOWEVER - I need everyone's Slides by the end of Week 8!!!
6. BOTTOM LINE
6.1. We will be creating a 25-30 slide PowerPoint of the "Robert's Rules of Order Booklet" - I will assign roles to each individual in the Responsibilities section below.