Objective: To engage Alumni with 40th anniversary and to strong the external positioning
by
Pablo Furlam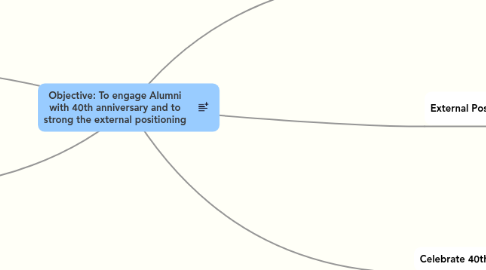 0.0
stars - reviews range from
0
to
5
Objective: To engage Alumni with 40th anniversary and to strong the external positioning
- Engage Alumni for: -- Networking -- Financial support (donation or project financing) -- Give knowledge and time (coach, board, speaker, testimony, etc) - External positioning: -- Alumni recognize their experience (how sell my @XP and how put in my CV) -- Alumni recognize the engagement with AIESEC as impactful and valuable (for itself and for society). -- Organizations recognize the @XP and therefor Alumni potential -- Alumni selling AIESEC in their companies/organizations Targets: No. de Alumni conectados ao MC; No. de CLs engajados; No. de Alumni conectados aos CLs; No. de contatos mapeados e atualizados; No. de parceiros recrutados para Alumni;
Organization and Management of Information
- To know our Alumni: -- Did he/she do an exchange? -- Did he/she be in a LR? -- Did he/she endeavor? (empreendeu) - To identify trends; - To find easily information about our Alumni; - To supply Alumni expectation; - To know our history.
Improve and expand database
- To be effective; - To be permanent.
Redeem history of AIESEC in Brazil
- Important events - Growth in number of members - Growth in number of exchanges - Total amount of Alumni - Total amount of exchanges (ICX and OGX) - LCs already closed
External Positioning
- To have
Create positioning for Alumni (LVBA)
Portfolio of Alumni
Structure communication channels
Celebrate 40th anniversary
Promotion
Board
Spread celebrations in Brazil
The event
- The event will be in October / 2010.
Products
Prospect
Targets
No of Alumni connected
Alumni connected means the Alumni that we collect information (CRM information at least) direct from the Alumnus. The information about Alumni connected must be updated on MC Alumni CRM. - Each MC member will be charge for connect with some former-MCs - Pablito, Thaisinha and Camilla will be responsible for: Thais: AHOF (16) e nominees (total 35, goal 20) Camilla: MCPs (35) Pablito: - Chairs of national conferences from the last 10 years. Considering 2 per year (20). - Key-Alumni (5 per CL) of CLs* between 25 e 35 years (profile of Alumni in 40th years event), in special the Alumni already were in a LC Board. *LCs with more then 5 years (11 LCs). - Alumni that already gave testimonial for national Newsletter
No of Alumni engaged
- We want engage the Alumni in the follow ways: With input/feedback As hub* of alumni As hub de empresas * Hub means somebody that endorse/understand the strategy and promote it. Beside that connect people, and not only provide a contact. - AHOF, at least 10 of them. - AHOF nominees, 10 of them. - MCPs, at least 20 of them. - Hub-Alumni in LCs (at least 1 in each of 11 LCs)
No of LCs connected
- LCs that understand, forward information and answer the surveys. - All with more than 2 years (26)
No of LCs engaged
- LCs that mobilize their Alumni and involve itself with strategy. - All with more than 5 years + LCs of São Paulo (11 + 3)
No of Alumni connected with LCs
- The same idea of MC, with LCVPs connecting with former LCVPs. - For LCs with more than 5 years (11).
No of partners recruited for Alumni
Inputs
Mada
Claudio
Pablo Hub
Vedana
Marcelinho
Babi
Gabiru