Unplugging From the Commercial Software Grid: Why Free is Better Even if you have a budget
by
Kent Brooks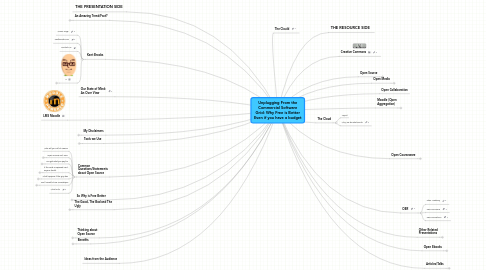 0.0
stars -
0
reviews range from
0
to
5
Unplugging From the Commercial Software Grid: Why Free is Better Even if you have a budget
LMS Moodle
Open Courseware
Open Ebooks
Articles/Talks
Moodle (Open Aggregation)
Open Media
Public Domain Photos
New node
Open Collaboration
Austin MoodleMoot 2010
The Long Tail of Higher Education
Kent Brooks
Contact Me
Kent Brooks 2801 N Main Altus OK 73521 kent.brooks@wosc.edu 5804777764 Traditional Voice 5805306658 Google Voice
2
An Amazing Trend/Fact?
1
Ideas from the Audience
So Why is Free Better
Reason #1 All the really really smart people work for someone else and live somewhere else
Reason #2 We can give stuff away
Reason #3 We can give our teachers a better selection of tools and becasue of reason
Reason #4.5 Because of Reason 4 you can save money on hardware
Reason # 5 Free will allow us to Automate Humanization
Reason #6 Free Drive Innovation
Reason #7 We are Us...They are Them...but Everyone Expects us to be Them
Reason #8 We have been able to reallocate resources to improve teaching and learning
THE RESOURCE SIDE
My Disclaimers
Unplugging Not Unplugged
Common Questions/Statements about Open Source
Who will you call at 2:00am
Open Source Isn't Free
You get what you pay for
If the code is exposed can't anyone hackit
What happens if the guy dies
You'll Need to hire a Developer
The Good, The Bad and The Ugly
The Good
The Bad
The Ugly
THE PRESENTATION SIDE
Thinking about Open Source
There is not One Killer Application/Solution
If you are Risk Averse don't try this at work
Major open source software applications are written at least as well as leading commercial products (often by the same people),
Enthusiastically supported by expert and helpful developers (as opposed to knowledge-free call center staff),
Transparently licensed (via industry-standard agreements).
The hazards of open source are those typically discussed as objections by "experts" about commercial software unstable or insecure software, availability of support, and legal issues.
Benefits
Reduced TCO
Quicker Pace of Development
Stability
Integration and interoprability
Transparency
Reliability
Overview of Benefits
Open Source
GNU acronym is "GNU's not Unix"
Tools we Use
Open Source
Free
Commercial
The Cloud
Jaycut