JUST WAR THEORY
by
Shayna-Anne Gerhardt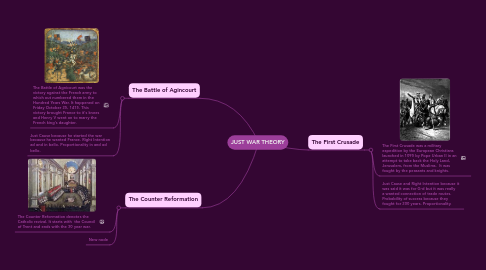 0.0
stars - reviews range from
0
to
5
JUST WAR THEORY
The Counter Reformation
The Counter Reformation denotes the Catholic revival. It starts with the Council of Trent and ends with the 30 year war.
New node
The First Crusade
The First Crusade was a military expedition by the European Christians launched in 1095 by Pope Urban II in an attempt to take back the Holy Land, Jerusalem, from the Muslims. It was fought by the peasants and knights.
Just Cause and Right Intention because it was said it was for G-d but it was really a wanted connection of trade routes. Probability of success because they fought for 200 years. Proportionality.
The Battle of Agincourt
The Battle of Agnicourt was the victory against the French army to which out numbered them in the Hundred Years War. It happened on Friday October 25, 1415. This victory brought France to it's knees and Henry V went on to marry the French king's daughter.
Just Cause because he started the war because he wanted France. Right Intention ad and in bello. Proportionality in and ad bello.