Chapter 6: Online Auctions, Virtual Communities and Web Portals
by
mike shaw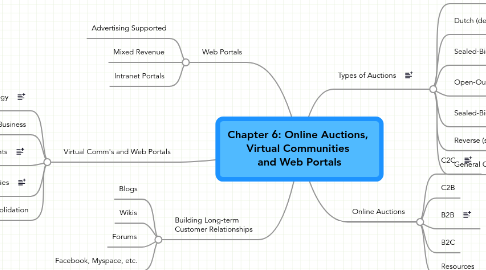 0.0
stars -
0
reviews range from
0
to
5
Chapter 6: Online Auctions, Virtual Communities and Web Portals
Types of Auctions
Auctions have been around for centuries.  They became popular in 17th century England. 
English (ascending in price)
bidders publicly announce successive bids until no higher bid is forthcoming.
Dutch (descending in price)
open auction in which bidding starts at a high price and then lowers until a bidder accepts the price.
Sealed-Bid auctions
no sharing of information
Open-Outcry Double
commodity futures and stock options
Sealed-Bid Double
buyers and sellers each submit combined price-quantity bids to an auctioneer
Reverse (seller bids)
General Consumer Auctions
Online Auctions
C2C
Amazon, Ebay TRUSTe, Escrow sites are intermediaries that ensure your security during significant transactions.
C2B
B2B
evolved to make a specific existing need. used to dispose of unusable or excess inventory 
B2C
Resources
Web Portals
Advertising Supported
Mixed Revenue
Intranet Portals
Building Long-term Customer Relationships
Blogs
Wikis
Forums
Facebook, Myspace, etc.
Virtual Comm's and Web Portals
Mobile Communications Technology
cellular-satelite communications technology
Mobile Business
Intelligent Software Agents
programs that search the web in order to find items for sale that fit the buyers needs 
Virtual Communities/Web- Online-Communities
gathering place for people to do business that does not require physical evidence
Web Community Consolidation