Parent Role in the Process
by
Jennifer Newingham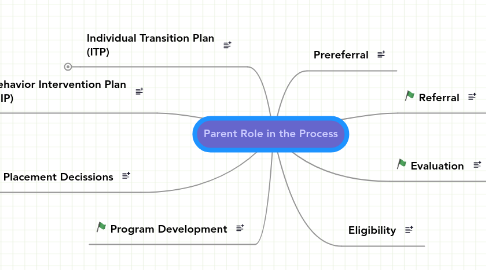 0.0
stars - reviews range from
0
to
5
Parent Role in the Process
Prereferral
There are no legal guidelines requiring school systems to include parents in the prereferral process; however, parents may choose to be involved by attending meetings and helping to create ideas for interventions in the general classroom setting.
Referral
This is one of the most important steps in which a parent is involved.  While a referral can be made by anyone (doctor, teacher, family member, or parent) a parent must sign consent before an evaluation can take place.  The parent's involvement in the referral process is crucial.  They are able to provide important information that would help with the evaluation process.
Evaluation
When completing an evaluation it is also important that the parent have input and be directly involved in the gathering of information.  When completing preschool evaluations, we often have very little time to see a child.  Therefore, the information we receive from parents is invaluable when trying to assess eligibility according to IDEA.
Eligibility
Eligibility is determined by the case conference committee that includes the parents.  It is a committee decision based on the the evaluation information.  The committee determines whether or not, the child meets the criteria needed to be considered eligible under IDEA.  Since parents should be an active member of this committee, and therefore this decision, they should be provided with a copy and explanation of the evaluation report.
Program Development
Program development is the creation of the IEP and goals. This is a time for parent concerns to be addressed.  During this process they are able to share their child's present levels, strengths, concerns they have about their child's development, and suggest goals they would like to see addressed in their child's educational plan.  In order for them to be active participants, however, they must be prepared for what will be asked of them during the conference.  Putting parents on the spot may only prove to make the experience more stressful for them.
Individual Transition Plan (ITP)
The creation of an Individual Transition Plan is an important step for both parents and students to be involved in creating.  Schools, parents, and the student should be able to work together to identify future goals and the steps that will be required to obtain those goals.
New node
Behavior Intervention Plan (BIP)
Parents can and should be involved in the creation of a Behavioral Intervention Plan (BIP).  They should also be involved in the Functional Behavior Assessment.  They may have insight into the students actions that the schools would have no way of knowing.
Placement Decissions
Once the evaluation findings have been explained to the parents and they have a working understanding of the information, a placement decision must be made.  While educators may be able to suggest appropriate placement based on the student's need, it is ultimately the parents decision.  They have the ability to accept or refuse our suggestion for services.  It is crucial then that parents be educated about program options and possibilities so that they may make an educated decision based on the schools evaluation AND what they know about their child.