MindManager Tips and Tricks
by
Andrew Wilcox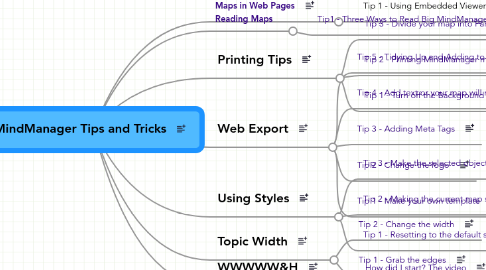 5.0
stars -
2
reviews range from
0
to
5
MindManager Tips and Tricks
This blog is about how to get the best from MindManager and it is a great example of just that. It is created from the MindManager map you can see above. This has been exported using Map4Web, a MindManager add in, through a modified web export template.  It"s not that difficult honest! Later I expect there to be options for you to interact with the blog.  This will use HTML code written by me or sourced from someone else.  Map4Web allows the inclusion of HTML snippets in the topic notes.  If you visit their site click the Union Jack for the English version. Hi, my name is Andrew Wilcox.  I am based in the United Kingdom, England, Hampshire, Alresford which is in the South, in the middle and about 15 miles North of Southampton. Wouldn"t a map make that so much easier to understand?  So I started one for all MindManager Users on Frappr. 100 plus of the 900,000 have declared where they are located on the globe. I have been using MindManager to capture knowledge, organise it, add to it, link it and publish it for 10 years.  This blog shares my knowledge about the latest version MindManager with you.  Soon you will be able to add yours or at least comment on mine. If you want to send me any feedback now, please e-mail me at andrew@cabre.co.uk. There are other opportunities to interact with me: On the Cabre Community and Ecademy in the Cabre"s Visualise, Organise, Plan & Publish with MindManager club. And a Skype Chat for MindManager Users where you might be able to get an immediate response to any question from anywhere in the world.  Skype me at ajwilcox if you want to join this chat.
Maps in Web Pages
Sharing maps with other people is a basic requirement.  Here are a few ways to do this. The latest is to use one of the embedded viewers either the one from Mindjet or the ones available on the web based mind mapping sites such as Mindomo and MindMeister.  Map4Web a MindManager Add In has an Active Map export which uses the Mindjet web viewer. MindManager has for some while been able export maps as images, clickable images and PDF files.
Tip 1 - Using Embedded Viewers
Reading Maps
Tip1 - Three Ways to Read Big MindManager Maps
Printing Tips
MindManager has a number of ways of controlling the printing of your maps.  Some more obvious than others.  Click Printing Tips to select a tip.
Tip 3 - Divide your map into Parent and Child Maps
Tip 2 - Printing MindManager maps on more than one page
Tip 1 - Turn off the Background
Web Export
MindManager creates a variety of web page formats using templates, macros and style sheets.  You don"t have to understand that to create a good looking web site with MindManager.  However if you want Google to find it and to really brand it there are a few relatively simple things you can do.
Tip 5 - Tidying Up and Adding to the HTML
Tip 4 - Add text or your map will not be found
Tip 3 - Adding Meta Tags
Tip 2 - Change the logo
Tip 1 - Make your own template
Using Styles
Each MindManager map has its own style sheet which can be accessed from Format > Style > Modify.  There are a variety of ways that you can interact with the style of your map.  These tips will make you aware of some.
Tip 3 - Make the selected object style the default for all objects on the map
Tip 2 - Making the current map style your default style
Tip 1 - Resetting to the default style
Topic Width
Why does topic text wrap when it does?  How can you control it?  Good questions which often mystify new users of MindManager.  Here are my tips.
Tip 2 - Change the width
Tip 1 - Grab the edges
WWWWW&H
Why, What, Where, When, Who and How My thoughts, articles, examples, videos and case studies of how I and other people have got the best out of MindManager.
How did I start? The video