My Goals
by Lindy Thornton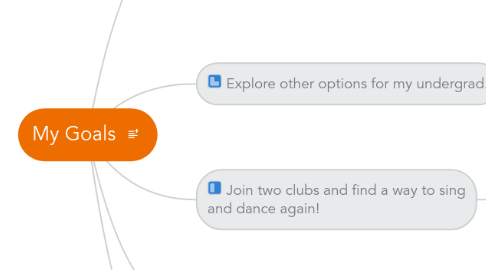 1. Obtain a 3.5 or above GPA.
1.1. Go all of my classes!
1.1.1. Sign the sign in sheets.
1.1.2. Keep an organized planner.
1.2. Study for three or more hours per subject per week.
1.2.1. Allocate certain days to certain classes.
1.2.2. Take practice quizzes often to track my progress.
1.3. Complete all homework.
1.3.1. Do every assignment when it's assigned.
1.3.2. Do not procrastinate.
2. Explore other options for my undergrad.
2.1. Keep in contact with other PAs and professionals in the field.
2.1.1. Send out emails and network often!
2.2. Talk to an adviser in both CST and honors.
2.2.1. Do this before the end of the month!
2.3. Go to the prehealth meeting on the 18th.
3. Join two clubs and find a way to sing and dance again!
3.1. Join two clubs!
3.1.1. Join before the end of september!
3.2. Keep practicing dance so you don't fall behind.
3.2.1. Stretch and do combinations at night.
3.3. Audition for things for the sake of auditioning!
3.3.1. Every audition is a learning experience.
4. Stay in touch with my family and visit my sisters!
4.1. Go to Hallie's apartment in New York!
4.2. Go to Sara's apartment in West Chester!
4.3. Go home to Spring City and Chincoteague sometimes!
5. Eat Better!
5.1. Eat smaller portions and don't overeat.
5.1.1. Grab small portions and then more if still hungry.
5.2. Eat healthier!
5.2.1. Stay away from junk food, etc.