Chap. 5 Business to Business Strategies
by Sean K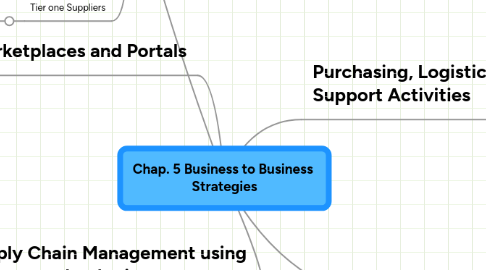 1. Purchasing, Logistics, and Support Activities
1.1. Purchasing Activities
1.1.1. Include: Identifying vendors, evaluating vendors, selecting specific products, placing orders, and resolving issues that come about after receiving orders.
1.1.2. By identifying purchasing activities, Purchase managers can play an important role in maintaining and improving quality of products and also potentailly reduce costs.
1.2. Logistics Activities
1.2.1. Businesses need to make sure that products sold are delivered on time and that the raw materials they buy from vendors and use to create their products arrive when needed.
1.2.2. Include: managing inbound movements of materials/supplies and the outbound movements of finished goods/services. Therefore receiving, warehousing, scheduling, and controlling inventory are activities.
1.3. Support Activities
1.3.1. Include: general areas of finance and admin, human resources, and tech. development. So making payments, processing payments, planning capital expenditures, hiring, training, evaluating employees, posting research results, publishing research papers, are all support activities.
1.4. E-Government
1.4.1. Include: Employing people, buying supplies from vendors, distributing benefit payments, and collecting tax.
2. Important Definitions
2.1. Supply Chain
2.1.1. Network of suppliers, transportation firms, and brokers that combine to provide a material of service to the strategic bus. unit.
2.2. Spend
2.2.1. Total dollar amount of goods and services that a company buys during a year.
2.3. Direct Materials
2.3.1. materials that become part of the finished product in manu. process. (Ex: Iron Ore for Steel manufacturers).
2.4. Replenishment Purchasing
2.4.1. Type of direct materials purchase in which the company negotiates long-term contracts for purchasing material they need. A pro of this is low price and good delivery terms.
2.5. Spot Purchasing
2.5.1. Type of direct materials purchase in which occurs in a loosely organized market within a specific industry.
2.6. Indirect Materials (MRO Supplies)
2.6.1. all other materials a company buys (Ex: factory supplies, test equipment, etc).
2.7. Third-party Logistics
2.7.1. transportation company that operates all or most of a customer's material movement activities.
2.8. Knowledge Management
2.8.1. intentional collection, classification, and dissemination of info. about a company, its products and its processes
2.9. Direct Connection EDI
2.9.1. From of EDI in which EDI translator computers at each company are linked directly to each other.
2.10. Indirect Connection EDI
2.10.1. Form of EDI where each company transmits and receives EDI messages through a value-added network.
2.11. Automated clearing house (ACH)
2.11.1. a service that banks use to manage their accounts with each other.
2.12. Tier one Suppliers
2.12.1. capable suppliers that work directly with and have long-term relations with businesses.
3. Electronic Data Interchange
3.1. Computer-to-Computer transfer of business info. between two businesses that uses a standard format of some kind
3.2. EDI Purchasing Process
3.2.1. Purchasing of direct or indirect materials electronically rather than with paper documents. Electronic messages and purchase order details are distributed to purchasing dept., account- ing dept., receiving dept., sales dept., shipping dept., and bank all through an EDI network. This is done so much faster and is generally more error free than the paper process.
3.3. Value-added Network
3.3.1. a company that provides communications equip., software, and skills needed to receive, store, and forward electronic messages that contain EDI transaction.
3.4. EDI on the Internet
3.4.1. Financial EDI - EDI transaction sets that provide instructions to a trading partner's bank. Meaning that all banks have the ability to perform electronic fund transfers, which is the movement of money from one bank to another.
4. Supply Chain Management using Internet technologies
4.1. Value creation in the supply chain
4.1.1. By taking a more active role with suppliers businesses can save money and offer a good quality product. By engaging in cooperative/long-term relations, companies have found that they can work with suppliers to think of new ways to provide customers with faster and better service.
4.1.2. Supply chain management is used today to add value in the form of benefits to the con- sumer at the end of the chain.
4.2. Increasing supply chain efficiencies
4.2.1. Companies using the internet to manage supply chains have found ways to increase speed, reduce costs, and increase manufacturing flexibility so respond to change happen faster.
4.3. Using materials-tracking tech. with EDI and E-com
4.3.1. Tracking materials as they move are being tracked with bar code systems. There bar codes allow companies to scan materials as they are received and to track them as they move from being materials into production. Companies can use this along with EDI to manage inventory flowsand to forecast materials.
4.4. Building and maintaining trust in the supply chain
4.4.1. Building and maintaining trust comes from years of doing business with vendors. The internet has made it easier to communicate with vendors in the supply chain in order to share info. and offer new avenues of trust.
5. E-Marketplaces and Portals
5.1. Private stores and customer portals
5.1.1. Private stores are password protected stores that are able to negotiate price reductions on limited selections of products. Customer Portal sites are private stores designed to meet needs of customers by offering extra services such as number cross referencing, product use guidelines, and saftey info.
5.2. Private Company Marketplaces
5.2.1. Large companies that use their power in supply chain management to force suppliers to deal with them on their own terms rather than negotiate with suppliers in an indus- try marketplace. Sellers bid on major buyers' business.
5.3. Industry Consortia-sponsored marketplaces
5.3.1. A marketplace formed by several large buyers in a particular industry.