Apple Inc.
by Bavneet H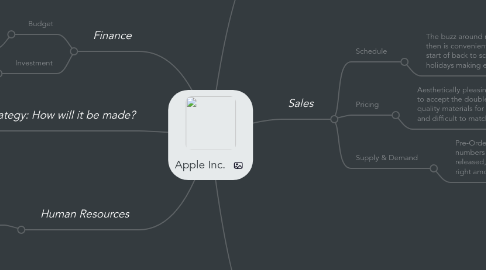 1. Finance
1.1. Budget
1.1.1. As big of a company like Apple, budgeting becomes really critical. The financial workers need to strategically distribute budgeting based on what is most important, and beneficial in the end. Two very important things being Manufacturing and Advertising.
1.2. Investment
1.2.1. Shares
2. Manufacturing Strategy: How will it be made?
2.1. The period of time to hire the right amount of engineers to manage factory workers is 9 months in the U.S, but only 15 days in a countries such as China, Taiwan... etc. That is why all Apple products are designed and developed in California at Apple headquarters, but not manufactured in the same country. It also helps to cut down costs significantly
3. Business Concept: What does is this company have to offer?
3.1. Apple Devices/Services
3.1.1. Mac Laptops/Desktops
3.1.2. Ipod
3.1.3. Iphone
3.1.4. Ipad
3.1.5. Itunes/ICloud
3.1.6. Apple Watch
3.2. Apple's Demographic
3.2.1. Everyone
3.3. Goal
3.3.1. To make peoples lives easier, simpler and through world changing products
4. Sales
4.1. Schedule
4.1.1. The buzz around new products usually takes place throughout the summer and then is conveniently launched right at the end of it. This boosts sales right at the start of back to school and keeps those high sales going right through the holidays making every product a success every time.
4.2. Pricing
4.2.1. Aesthetically pleasing products that look and sound expensive allow consumers to accept the doubled price from it's competitors. Prices are also justified by using quality materials for their products with features and benefits that are original and difficult to match
4.3. Supply & Demand
4.3.1. Pre-Order and Availability dates are announced at the launch. Based on pre-order numbers and the well known line ups in front of Apple stores when a new product is released, the company can gather a pretty good idea of numbers needed to get the right amount of product orders.
5. Marketing Strategies: How Apple creates an awareness and motivation to buy their products.
5.1. Press Release
5.1.1. Creating a buzz around the release of a product through insiders. Information is either unofficially announced causing a hype which soon spreads, or intentionally announced to create a large enough audience for Apple's famous annual keynotes. This helps customers or potential buyers know everything about the upcoming product.
5.2. SEO
5.2.1. [Search Engine Optimization] is process of maximizing the number of visitors to your website by ensuring that the site appears high on the list of results by a search engine (eg. Google). Usually this occurs when the company pays for their links to get sponsored luring people to their products.
5.3. Advertisements
5.3.1. Ad's are kept clean and simple. The print ads usually shows the products against a white background so that it is the only thing that is focused on. The commercials are also presented the same way but with a voice over explaining it's features. Nothing less. Nothing more. It keeps consumers focused and only gives them information they understand or would care to know about so that it is enough to convince them to buy the product.
5.4. Social Media
5.4.1. Ironically, Apple doesn't really participate in social media, or what is known today as Facebook, Twitter and Instagram. But there marketing still does take place on social media as its fans create buzz around new product launches on blogs and Twitter, yet Apple apparently does nothing to get involved with or influence the discussion. Essentially, its strategy is to create a social buzz by staying completely silent, and letting the rumours to do the press work for them.
6. Human Resources
6.1. Recruitment
6.1.1. Customer Service
6.1.1.1. Apple takes Customer Service so seriously that they gave the name "Geniuses" to the customer support teams and have dedicated space in every store called the "Genius Bar" to help consumers with any questions and difficulties they have with their products. A happy customer who has been given complete help and service ensures a returning customer.
6.1.2. Skilled Workers
6.1.2.1. A huge successful company doesn't run on it's own. Human Resources is in charge of hiring only the most skilled employees under every function the company serves to ensure a solid company.