My Spring Break Mike Lopez All information is copyright protected
by
Mike 6th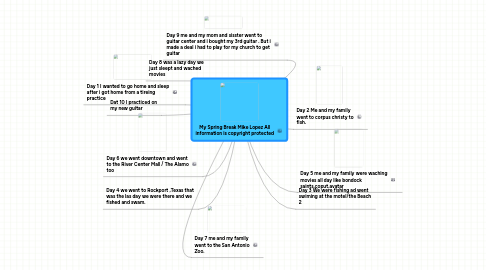 0.0
stars - reviews range from
0
to
5
My Spring Break Mike Lopez All information is copyright protected
Day 1 I wanted to go home and sleep after i got home from a tireing practice
Day 2 Me and my family went to corpus christy to fish.
Day 3 We were fishing ad went swiming at the motel/the Beach 2
Day 4 we went to Rockport ,Texas that was the las day we were there and we fished and swam.
Day 5 me and my family were waching movies all day like bondock saints,coput,avatar
Day 6 we went downtown and went to the River Center Mall / The Alamo too
Day 7 me and my family went to the San Antonio Zoo.
Day 8 was a lazy day we just sleept and wached movies
Day 9 me and my mom and sisster went to guitar center and i bought my 3rd guitar . But i made a deal i had to play for my church to get guitar
Dat 10 I practiced on my new guitar