Eventual Sakai 3 UI Concepts
by
Ian Boston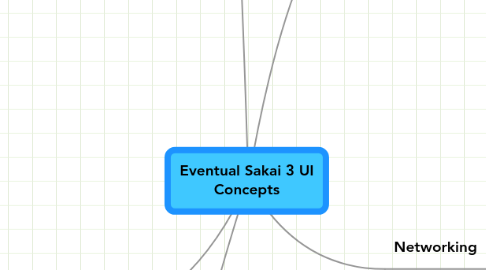 0.0
stars - reviews range from
0
to
5
Eventual Sakai 3 UI Concepts
UI Requirements
Mobile devices
Keyboard
Content
LC012 File Sharing/ Content Creation LC012 Materials are searchable, taggable, supporting annotations (Students able to tag content with 'like' as feedback to academic and other students - CSU) LC013 File Sharing/ Content Creation LC021 I want to share ideas, notes, annotations, and references with my team.   LC022 File Sharing/ Content Creation, (wiki - CSU)
Authored Content
Pages, In page Widgets, External Integration of Data Feeds via widgets, Phonetics and Equations, Page Components, Name seperate from Link, Embedding
Auto Created Pages, List of Files from Collection
Graphical Content
Uploaded
Media Objects, Freedom and Flexability, Streamed Video Uploaded, Photo Albums, Video Albums
Online Handling of Office Formats
Archived material
LC023 site archival
External
URL
Proxed
Persistent Content
LC023 I want my class materials to be available for others to refer to for a long time after the class is over.   LC023 I want to use a colleague's materials for teaching a course
Access Control of Content
LC011 Conditional Release (conditional flow) (seamless with other applications - ppt, LaTex - easily block releasee content e.g.every Friday and set this up once only - CSU)  
Groups
Rules based, Timed
Users
Delegated Control
Journal/Blog
Private
Group Readable
Public
Aggregated
Student Managed Content
LC013 I want to share my personal notes on the lecture with a classmate LC013 I want to see lecture notes from other classmates
Accessable Versions of Content
Personal Space
Private Content
Collected Content from elsewhere
Citation Lists
Import, Standard Formats
Export
Nice URLS
Perm Links
Analytics of Use
Managed Metadata
Searching
On Metadata
On Content
Commenting annotations
LC012 Students need to be able to comment on and critique content (CSU)  
messaging
LC015 Google Wave-like capability of discussion, messaging, instant messaging, etc.   LC022 Email, private messaging, chat   LC022 Communication preferences (If email, students should receive an automatic notification that email has been sent and will be responded to in due course - CSU)
email
chat, Live Chat
to groups, Discussion, Permissions on messages, FAQ, email
System Notification, User Configurable
Disabling for Groups, rule based
profile
my profile
others profiles, contacts profile, public profile, x profile, Browsing Profiles by Group
contacts
Events
Group Events
Individual Events
My Agenda
ToDo List
Presence
Privacy Controls
Sites
LC023 Site export to a structured and navigable file that can be viewed independently of the system. Options to provide only class structure and materials (partial export) but also option to include student contributions as well (full export).
Collection of Content
LC012 Content may be in a site or another site; may be in the system or out of the system
Structured organization
User generated Content
Exportable Package of Content, PDF, Offline Object
Associated Authorizables
Templated Sites
Projects, Public Presence Site, Collaboration Site
Courses, Attendence, Syllabus, Consistency of simular courses, Structured Content
Portfolios, Goal Planning
Other Sites
Library of templates, House Style available
Messaging (exposed here)
Student Managed Sites
Copy entire structure and Content
By Copy
By Reference
Authorizables
Users
LC009 tracking the students learning, may be within a portfolio but could equally be within a record of assessment associated with the user.  
Invited Users, visiting group membership
Recent Items
Impersonation, into Group, into User
Personal Space
Groups
Membership, Temporary Banning Users
Small Team Working, Groop Collaborative Apps
External Sources
Student Managed Groups
Assignments
LC016 I want to assign my students some homework   LC016 Simple submission/grade workflow; Submission by group; make and post homework forms for my students to complete and I want the results compiled into one file.   LC016 Flexible custom assessment workflows  
Request Resubmit
Stored Student Questions
Closed Assignments
Open Assignments
Collaborative Assignments
Tasks
Log Data of Assignments
Grading
LC018 Completion or scored result stored centrally with other grades. (Multiple question types, including open-ended, likert etc - CSU) LC019 I want to give my students grades   LC019 Any object can receive a comment or grade; Grouping of objects (e.g., portfolio) that receive feedback; both open and structured feedback (Notifications of results and feedback sent directly to student email, accessed in Sakai - CSU)   LC019 Grades are a special case of feedback and non-numerical assessment should be supported; Instructor feedback; self feedback; peer feedback; external to class review; external to system review; multitude of permissions for who can see what.  Another form of feedback is an interactive rubric in which the instuctor or reviewer simply checks the relevant score/description for each category.  The total score can then be optionally fed to the gradebook (IU has this working in Sakai via an integration with iRubric).  
Feedback, Given Feedback, Requested Feedback
Group Ranking
Assesments
  LC017 I want to assess my students' knowledge LC017 I want students to demonstrate what they have learned.   LC017 Full range of questions types; question pools; randomized selection and presentation of items; randomized ordering of choices for mc type questions. LC017 calculated question types with support for variables; autogeneration of charts and graphs based on question data; share assessments with other instructors/courses/students. Item statistics. LC018 Completion or scored result stored centrally with other grades. (Multiple question types, including open-ended, likert etc - CSU)
Survey
Tests, Low Stakes, High Stakes, Formative
Feedback
Recent Activity