Spring Break 2010
by Erick Pantaleon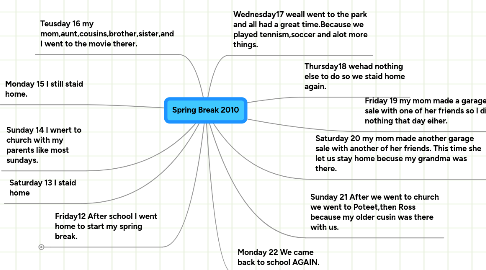 1. Friday12 After school I went home to start my spring break.
1.1. New node
2. Saturday 13 I staid home
3. Sunday 14 I wnert to church with my parents like most sundays.
4. Monday 15 I still staid home.
5. Teusday 16 my mom,aunt,cousins,brother,sister,and I went to the movie therer.
6. Wednesday17 weall went to the park and all had a great time.Because we played tennism,soccer and alot more things.
7. Thursday18 wehad nothing else to do so we staid home again.
8. Friday 19 my mom made a garage sale with one of her friends so I did nothing that day eiher.
9. Saturday 20 my mom made another garage sale with another of her friends. This time she let us stay home becuse my grandma was there.
10. Sunday 21 After we went to church we went to Poteet,then Ross because my older cusin was there with us.
11. Monday 22 We came back to school AGAIN.