Start at the End Lesson 3 Video
by Anushka Drescher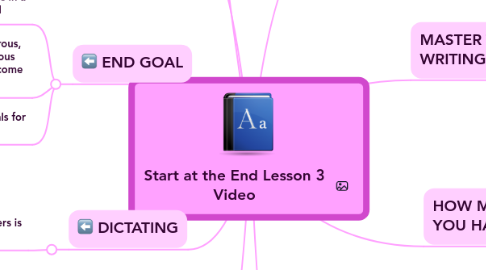 1. MASTER THE FINE ART OF WRITING
1.1. To master the fine art of writing you must begin at the end.
1.2. Marketing point of view.
2. END GOAL
2.1. Wrap your goals in a hundred dollar bill
2.2. Think prosperous, feel prosperous, live prosperous, breathe prosperous and act prosperous, then you become prosperous.
2.3. 3x5" card-write your goals for your book
2.3.1. Look at your goal card at least 4 times per day.
3. HOW MANY GOALS CAN YOU HAVE?
3.1. MUST set too many goals.
3.1.1. Write a book and make it a New York Time's best-seller.
3.1.2. Step by step from the end (where do you want to get?) and then come back through all the steps to your ultimate success.
3.1.3. Believe you can write 7 minutes a day
3.2. one of your goals is to build a database.
3.2.1. Begin your database at once!
4. DICTATING
4.1. One of the best writers is Steve Allen
4.1.1. Overcome to achieve your success
4.1.2. Record into a tape recorder, or in your computer or even into your cell phone
4.1.2.1. You can call your own phone and leave a message of your inspiration! This is a great way to eliminate the excuses, detours and setbacks that often beset budding authors.
5. PLAN BIG, THINK RESIDUAL
5.1. "Start every day by pretending you got a new check for double the amount you got yesterday and you have to spend it ALL today."
5.1.1. "Breathe deep."
5.1.2. "Breathe again."
5.1.3. Be calm
5.1.4. Smile.
5.1.5. Change your state
6. MONSTER GOALS
6.1. Take Aqaba
6.2. Have to have a mission that's impossible to do and then you figure out a way to do it , no matter what it takes.
6.3. "Great dreamers' dreams are never fulfilled, they're always, always, always transcended."
6.4. Set more goals than you ever expect.
7. INSIDER TIPS
7.1. If you're going to program yourself to be anything, program yourself to be happy!
8. The One Minute Millionaire
8.1. Give 10% of your income to charity.
8.2. Put 10% of your income into savings.
8.3. Invest 10% of your income into wise investments.
8.4. Live on 70% of your income.
9. Finally: Your Guide to Great Writing
9.1. One Good Idea
9.2. Listen to Your Audience
9.3. Breathe Deep
9.4. Write Every Day!!!
9.5. One minute per day = One book per year!