HOW BUSINESS CAN USE WEB 2.0 TECHNOLOGY
by kelebogile mogotsi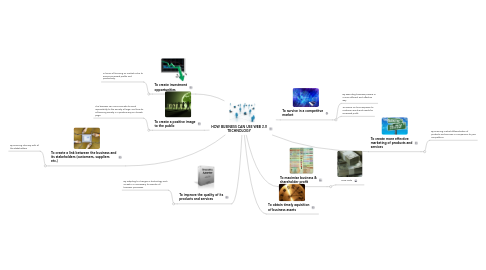 1. To survive in a competitve market
1.1. By executing business process in a more efficient and effective way
1.2. To ensure on time response to customer wants and needs for increased profit.
2. To create a positive image to the public
2.1. The business can communicate its social reponsibility to the society at large, and how its influencing society in a positive way on its web page.
3. To obtain timely aquisition of business assets
4. To improve the quality of its products and services
4.1. By adapting to changes in technology such as web 2.0 neccessary to execute all business processes.
5. To create more effective marketing of products and services
5.1. By ensuring market differentiation of products and services in comparison to your competitors.
6. To create investment opportunities
6.1. In terms of focusing on market niche to ensure increased profits and productivity.
7. To maximise business & shareholder profit
7.1. New node
8. To create a link between the business and its stakeholders (customers, suppliers etc.)
8.1. By ensuring intimacy with all the stakeholders