The Standard for Program Management 3rd Edition (a.k.a. PgMBOK)
by Mirosław Dąbrowski, Softwarehouse owner, Entrepreneur, Agile&IT Coach, Trainer, Consultant, Product Owner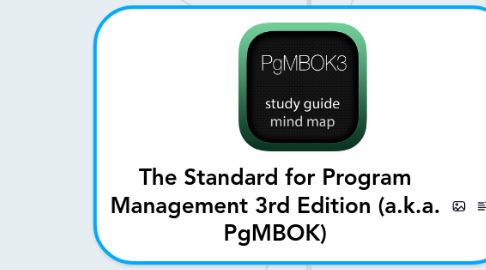 1. This freeware, non-commercial mind map (aligned with the newest version of The Standard for Program Management was carefully hand crafted with passion and love for learning and constant improvement as well for promotion this standard and PM profession and as a learning tool for candidates wanting to gain PgMP® qualification. (please share, like and give feedback - your feedback and comments are my main motivation for further elaboration. THX!)
1.1. Questions / issues / errors? What do you think about my work? Your comments are highly appreciated. Feel free to visit my website: www.miroslawdabrowski.com
1.1.1. http://www.linkedin.com/in/miroslawdabrowski
1.1.2. https://www.google.com/+MiroslawDabrowski
1.1.3. https://play.spotify.com/user/miroslawdabrowski/
1.1.4. http://www.miroslawdabrowski.com
1.1.5. https://twitter.com/mirodabrowski
1.1.6. miroslaw_dabrowski
2. Program Management Performence Domains (5)
2.1. 1. Program Strategy Alignment
2.2. 2. Program Benefits Management
2.3. 3. Program Stakeholder Engagement
2.4. 4. Program Governance
2.5. 5. Program Life Cycle Management
3. Process Groups / Program Life Cycle Phases (3)
3.1. Program Definition
3.2. Program Benefits Delivery
3.3. Program Closure
4. Knowledge Areas (9)
4.1. Program Communication Management
4.2. Program Financial Management
4.3. Program Integration Management
4.4. Program Procurement Management
4.5. Program Quality Management
4.6. Program Resource Management
4.7. Program Risk Management
4.8. Program Scgedule Management
4.9. Program Scope Management
4.10. Supporting Processes
5. Program types (3)
5.1. Strategic Programs
5.2. Compliance Programs
5.3. Emergent Programs
6. Program Products / Artifacts
6.1. Approved Change Requests
6.2. Benefits Delivery
6.3. Benefits Realization Plan
6.4. Benefits Register
6.5. Benefits Sustainment Plan
6.6. Communications Management Plan
6.7. Communication Plan
6.8. Component Budgets Closed
6.9. Component Management Plan
6.10. Component Payment Schedule
6.11. Contract Closeout Report
6.12. Contract Payment
6.13. Corrective Action
6.14. Estimate
6.15. Financial Closing Statement
6.16. Issue Log
6.17. Procurement Management Plan
6.18. Program Apporach
6.19. Program Budget Baseline
6.20. Program Business Case
6.21. Program Charter
6.22. Program Documentation Archive Plan
6.23. Program Financial Framework
6.24. Program Financial Management Plan
6.25. Program Financial Metrics
6.26. Program Funding Schedules
6.27. Program Goals
6.28. Program Governance Plan
6.29. Program Management Plan
6.30. Program Manadate
6.31. Program Master Schedule
6.32. Program Operational Costs
6.33. Program Payment Schedules
6.34. Program Plan
6.35. Program Quality Policy
6.36. Program Quality Standards
6.37. Program Report
6.38. Program Resource Requirements
6.39. Program Roadmap
6.40. Program Scope Statement
6.41. Program Success Criteria
6.42. Program Vision
6.43. Program Work Breakdown Structure (PWBS)
6.44. Quality Management Plan
6.45. Request for proposal (RfP)
6.46. Request for quote (RfQ)
6.47. Resource Management Plan
6.48. Risk Assessment
6.49. Risk Management Plan
6.50. Schedule Management Plan
6.51. Scope Management Plan
6.52. Stakeholder Management Plan
6.53. Stakeholder Engagement Plan
6.54. Stakeholder List
6.55. Stakeholder Map
6.56. Stakeholder Register
6.57. Strategic Plan
6.58. Studies
7. Processes (36)
7.1. Program Definition (13)
7.1.1. Communication Planning
7.1.2. Program Cost Estimation
7.1.3. Program Financial Framework Establishement
7.1.4. Program Financial Management Plan Development
7.1.5. Program Initiation
7.1.6. Program Management Plan Development
7.1.7. Program Infrastructure Development
7.1.8. Program Procurement Planning
7.1.9. Program Quality Planning
7.1.10. Resource Planning
7.1.11. Program Risk Management Planning
7.1.12. Program Schedule Planning
7.1.13. Program Scope Planning
7.2. Program Benefits Delivery (19)
7.2.1. Information Distribution
7.2.2. Program Performance Reporting
7.2.3. Component Cost Estimation
7.2.4. Program Cost Budgeting
7.2.5. Program Financial Monitoring and Control
7.2.6. Program Execution Management
7.2.7. Program Performance Monitoring and Control
7.2.8. Program Procurement
7.2.9. Program Procurement Administration
7.2.10. Program Quality Assurance
7.2.11. Program Quality Control
7.2.12. Resource Prioritization
7.2.13. Resource Inter-dependency Management
7.2.14. Program Risk Identification
7.2.15. Program Risk Analysis
7.2.16. Program Risk Response Planning
7.2.17. Program Risk Monitoring and Control
7.2.18. Program Schedule Control
7.2.19. Program Scope Control
7.3. Program Closure (4)
7.3.1. Program Financial Closure
7.3.2. Program Transition and Benefits Sustainment
7.3.3. Program Closure
7.3.4. Program Procurement Closure
8. "Project management is like juggling three balls – time, cost and quality. Program management is like a troupe of circus performers standing in a circle, each juggling-three balls and swapping balls from time to time." G. Reiss
9. The Standard for Program Management (a.k.a. PgMBOK) - provides a detailed understanding of program management and promotes efficient and effective communication and coordination among various project management groups.
9.1. PgMBOK® Guide v1 was published in 2006.
9.2. PgMBOK® Guide v2 was published in 2008.
9.3. PgMBOK® Guide v3 was published in 2012.