Self-Publishing
by Anushka Drescher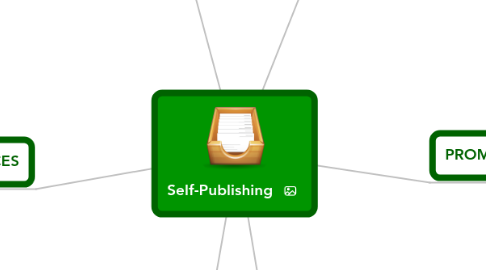 1. Ways to promote a new book
1.1. • Email Marketing Campaigns • Affi liate Marketing Programs • Book Reviews • Book Signings • Radio Interviews and/or Ads • TV Interviews and/or Ads • Social Networking Sites such as Twitter, LinkedIn, Facebook, MySpace and hundreds of others
2. 4 PUBLISHING PROCESS
2.1. 1. Creation. The actual writing of the book.
2.2. 2. Production. The book's design, typesetting, copywriting and binding.
2.3. 3. Distribution. Generally, distribution is done through book stores (retail distributors) and club stores (wholesale distributors).
2.4. 4. Promotion. This is where you get your book in front of interested audiences.
3. PROMOTION
3.1. You should have a STRATEGY
3.1.1. Strategy #1: TV Promotion:
3.1.2. Strategy#2: Online Viral Marketing
3.1.3. Strategy #3: Live Promotion—Book Tour
3.2. Several TACTICS
3.2.1. Tactic: Write 1-page synopsis of book
3.2.2. Tactic: Contact Show Producer to pitch idea—send 1-page synopsis with contact info and interview availability
3.2.3. Tactic: Start blog
3.2.4. Tactic: Post demo videos to YouTube
3.2.5. Tactic: Contact regional managers of major bookstores in top ten largest U.S. cities to schedule book signings
3.2.6. Tactic: Host Charity ball
3.2.7. Tactic: Host 'play day'
4. PROMOTION SOURCES
4.1. Your promotion check list should include but not be limited to:
4.1.1. • Organizations • Clubs • Magazines • Newspapers • Stores • Catalogs • Events • Conventions • Forums
4.2. Book Reviews - must send review copies to all the appropriate people
4.3. Web Presence - you must have your own website
4.4. EFFECTIVE MEDIA KIT
4.4.1. www.instantmediakit.com
4.5. PUBLISH
4.5.1. www.authorbytes.com
4.5.2. www.promoteabookstudios.com
4.5.3. www.wikipedia.com
4.6. Permission Marketing
5. POD AND DROP-SHIPPING
5.1. Two Big Wholesaler in Amrica:
5.1.1. 1. Ingram
5.1.1.1. www.Lighteningsource.com
5.1.2. 2. Baker Taylor
5.1.2.1. www.replicabooks.com
5.2. Find bookstores that are interested in retailing them
5.2.1. Independent book stores
5.2.1.1. Powell's in Portland
5.2.1.2. A Tattered Cover in Denver
5.2.2. Biggest online book store
5.2.2.1. www.Amazon.com
6. INSIDER TIPS
6.1. Business Tax Benefi ts