Web 2.0 Technology
by
Hannelize de Villiers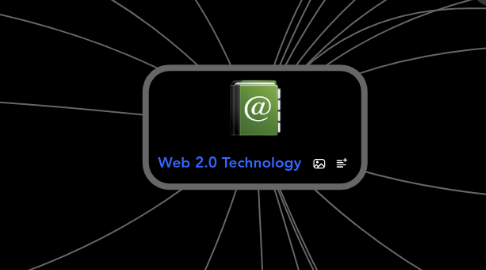 0.0
stars - reviews range from
0
to
5
Web 2.0 Technology
Mind map: Created by Hannelize de Villiers How business use 2.0 Technology Web 2.0 technology is second year generation technology like Wiki's, Facebook or MySpace and Twitter, advanced gaming.  It can benefit business can have a negative impact. All of the aspects of 2.0 Technology contributes to a competitive advantage for a business if its used to their advantage  
Interactive Applications
Saves businesses, that uses, it time and money
Any business that uses E-Commerce saves time and money, because they can order a product over the internet, pay online and then they dont even have to collect the product it gets delivered to them.
Reach more markets
Businesses can get more exposure to International markets, can advertise your products and services internationally.
Share information
Blogs enables business to share certain information
Build relationships
Build relationships with your colleages at work, in order to be productive and work together in the working environment, to prevent any conflict. And it contributes to teamwork
Used to find out where a location is on the map, and how to get there with the help of directions.
If a employer of some business wants to know where a location is based, for the purpose of for example a interview or meeting.  It will prevent emloyers getting lost.  And so it will prevent a loss of effectiveness and expenditures
Advertising
Advertising is a very important aspect for any business.  And because lots of people use blogs, its the most cost effectvie way to raise awareness of products by advertising the products and services on mySpace, Facebook and Twitter.
Advertise new products or services
Communication
The biggest advantage of blogs like facebook is the communicating aspect.  You can communicate with anyone around the world. With communication the business can connect with your employees, suppliers and customers via a closed business group on facebook.  the Employer and the Excecutives can communicate the goals of the business as well as the business activities.
Communication with your employees, customers and suppliers
Interaction
Interaction with your suppliers, customers and competitors can be done with the help of blogs, like facebook and Twitter.  To be able to get a stronger relationship with them.  And that will contribute to the business's success. A business can interact with their customers, for comments on their products. That can help a business to improve their service and products
Interaction with customers, suppliers and Competitors
Blogs
 Blogs are a personal website where anyone can interact with friends, post comments, share photos and chat. or it can be your diary. Used to communicate with colleages, customers etc.  One blog is dedicated for student loans
Twitter
MySpace
Facebook
Mash-Ups
In web development, a mashup is a web page or application that combines data or functionality from two or more external sources to create a new services. Business can use it for business functions, to combine their data with videos and other applications.
Google maps
Advanced Gaming
Advanced gaming: Web 2.0 technology for more features which requires advanced technology. Used for business to get stronger bonds with each other
Or other Web 2.0 Games
Poker games
Nintendo Wi
Open source applications
Open source applications: Where any one can edit or add information of their own opinion for free. It can be copied and edited.  Its not always relative or accurate information, because of the fact that any person who are not well informed of a subject can add their own opinion and insight, which aren't always true
Dictionaries
Encyclopedias
RSS
RSS - Really Simple Syndicate
Helps business users to save time, because it waste time to check for updates when there aren't any
Keeps up with your favourite blogs without constantly checking them for updates
Really Simple Syndication / Rich Site Summary - Pulls out specified content so that it can be used in another setting.  When Businesses sign up on Facebook or any other blog, they dont have to go on the blog everyday.  They can get notifications via E-mail, it sends the notifications to your E-mail.  Increases productivity.
Increases Productivity
Access to collaborative information
E-Commerce
E-Commerce: Users of E-commerce orders products and services electronically, over the internet. They can order and pay online, then the product are delivered to the buyers. 
Amazon.com
E-bay
Kalahari.net
Social network services
 Social networking sites allow users share ideas, activities, events, and interests within their individual networks.  At  low costs
Instant messaging
E-Mail
Mindmeister
Mindmapping can be used to collaborate with colleages and the public. Share ideas and thoughts, an idea can get planned out thoroughly and be structured well before it is used in the business.
Mindmapping
New node
New node