Web 2.0 Technology in Businesses
by
Ruhan van der Westhuizen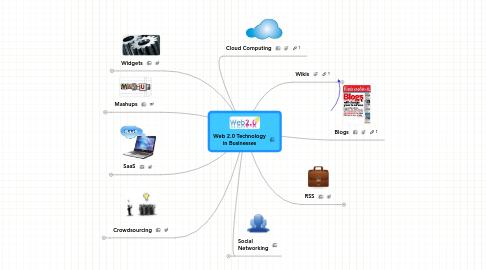 0.0
stars - reviews range from
0
to
5
Web 2.0 Technology in Businesses
Cloud computing refers to a model of computing where firms and individuals obtain the computing power and software applications over the Internet rather than purschasing their own hardware and software.
Wiki is a Web page thet can be viewed and modified by anybody with a Web browser and acess to the internet  
Wikipidia
SaaS
Services for delivering and providing acess to software remotely as Web-based service are now rivired to as Software as a Service(SaaS). Istead of buying and installing software programs, subscribing companies rent the same functions from these vendors, with users paying either on a subscription or per transaction basis. 
Saleforce.com
RSS
RSS Technology pulls spicified content from Web sites and feeds it aotomaticlly to users' computers, where it can be stored for later viewing. Businesses use RSS internally to distrubute updated corporate information. 
Microsoft Explorer
Mozila Firefox
Google Crome
Social Networking
Facebook
Twitter
Youtube
Mashups
Web Mushups combine the capabilities of two or more online applications to creata a kind of hybrid that provides more customer value than the original sources alone.
Google Maps
Google Apps
Widgets
Can be adde to Web pages or placed on the desktop for additional functionality.
Web Widgets
Desktop Widgets
Corporate blogs provide a personal and conversational way fof businesses to present information to the pubic and prospective customers about new  products and sevices. Readers are often invited to post comments.
Crowdsourcing
Crowdsourcing can improve productivity and creativity while minimizing labor and research expenses.
Netflix
Threadless.com