www.Padlet.com (V. Ndiaye)
by v ndiaye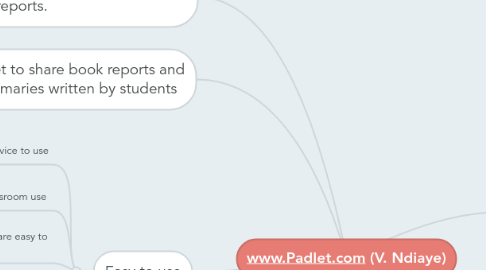 1. Padlet is a free online bulletin board with many possible uses in the classroom. It can be used to share images, videos, gather feedback from others, share ideas and resources, and much more!
1.1. Create a discussion board for students to ask questions or share ideas during a lesson
1.2. Create a wall to post topic related URLs for students to use for research
1.3. Collaborate with other classes or schools.
1.4. Collaborate with other teachers for planning and sharing of ideas and resources. Track student progress by communicating with special education teachers
1.5. Create word walls for ELL students or post spelling lists that can be viewed at home
1.6. Upload class notes and assignments for students to use at home
1.7. Does this tool integrate with other social media tools through RSS like Twitter, etc.? -Dr. Fritz
1.7.1. From what I understand it does work the same way. People can subscribe to the RSS feed and information can be embedded in blogs or shared through various social media sites.
2. Use as a communication tool with parents-ask them questions and create a space for them to ask questions and view what students have been working on in class
2.1. Use with ELL students and their families along with translators to communicate information, progress, and concerns
3. Allows students to use to brainstorm with each other
4. Students can collaborate to write stories, poems, and reports.
4.1. Students can work as teams and complete projects. Research can be completed by individual students and posted to their group's wall.
5. Use Padlet to share book reports and topic summaries written by students
6. Easy to use
6.1. Students can bring their own device to use
6.1.1. Padlet works on most devices-phones, tablets, TV, computers, etc.
6.2. Security can be set to private for classroom use
6.2.1. Security does need to be monitored. Students can change security settings
6.3. Help and support features are easy to understand
6.4. Students can personalize backgrounds then drag and drop content
6.5. One drawback is that students will need to label their posts so others know what they contributed.
6.6. Boards can be shared through other social media sites or exported as a file
7. Looking at the Gallery of projects created by this program, there do seem to be a wide range of uses for this program, and the capabilities seem to be pretty impressive. I'd be even more impressed if the program does turn out to be easy to use, as you claim. I think the "label your posts" issue can be worked around. We seem to be managing with it here. - W. Clagett