How a bussinesses can use 2.0 web technology.
by
Dirk Reyneke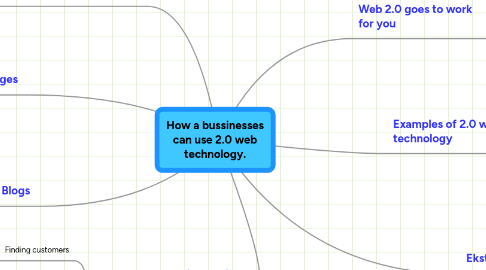 0.0
stars - reviews range from
0
to
5
How a bussinesses can use 2.0 web technology.
Web 2.0 goes to work for you
Economic impact
Given the global economy and "flat" world, companies increasingly rely on widespread teams and networks of people who need real-time access to one another and to common project resources. And the ability to easily interact with customers, vendors and partners is critical to ongoing success. Although process reengineering can improve business flexibility and efficiency, advantages can be short lived as competitors often can easily replicate your approach. Business models based on Web 2.0 strategies, which can change how people connect, communicate and organize, are typically more difficult to replicate and thus potentially deliver a more sustainable competitive advantage. Web 2.0 approaches create opportunities to turn traditional sales and marketing strategies on their heads. For example, given marketing and sales budget considerations, large enterprises have historically focused on driving revenue through blockbuster products or services for large marketplaces that comprise millions of people. Using Web 2.0 approaches, however, companies can cost-effectively sell and market wider varieties of products and services to fewer people in niche marketplaces. And for companies in highly commoditized marketplaces with intense competition, this can be a great way to differentiate themselves, and stabilize or increase revenue.2
Comunity value
With the right Web 2.0 strategy, you have the potential to tap the collective knowledge of the entire value chain—across geographic boundaries. And this can help create a more collaborative and dynamic company culture that fosters innovation. Web 2.0 technology enables people to connect in ways that simply weren't possible before. Individuals and teams can join interest- and job-related networks and participate based on preferred working styles. And by harnessing the collective intelligence of customers, organizations can enhance customer relationship management and potentially respond more quickly to changing marketplace conditions. For example, you could turn to customers for help creating new products or services based on customers' needs or tastes. To increase differentiation, your challenge is to determine how you can use Web 2.0 technologies to enable new insights from existing information. An optimal strategy will give all of your people and partners personalized views of the information they need to make faster, more informed decisions
Enabling technology
Web 2.0 is built on the concept of reuse and relies on open, standards-based technology for the flexibility and scalability required in such dynamic environments. Web 2.0 technologies enable IT departments to rapidly create situational applications that unlock enterprise data and applications for business users and customers. Additionally, tools for situational application development provide the ability for business users to remix content and business tools on the fly—without involvement from IT—based on their job roles or specific needs. Through this capability, you can achieve high business value at an attractive cost, while protecting, extending and deriving new value from existing infrastructure investments. When properly executed, a Web 2.0 strategy will provide users with real-time access to relevant, trusted information and applications presented based on role, expertise or preferences. Through aggregating and filtering corporate, individual and external information into customized and relevant business insight, Web 2.0 techniques help reduce information overload. How do you empower people with the tools they need to make better decisions more quickly and to work more efficiently? With social software. Built on Web 2.0 technologies, social software provides the forum for building dynamic networks of coworkers, partners and customers to foster community-based innovation.
Web 2.0 philosophies and technologies enable unprecedented levels of interaction that help foster
Innovation
Speed
Simplicity
Examples of 2.0 web technology
Facebook
MSN messenger
Skype
You tube
Wikis
Helps the bussiness with
Finding customers
Finding suppliers
Promoting the business
Advantages
Better produktiwity
Enables you to use less production faktors
Ekstra information
Pie chart
GRaph
Blogs
Sppeds up bussenis
Easy web publishing solution
Improves comunication between employees and customers