Browsers
by
Rosa Ramos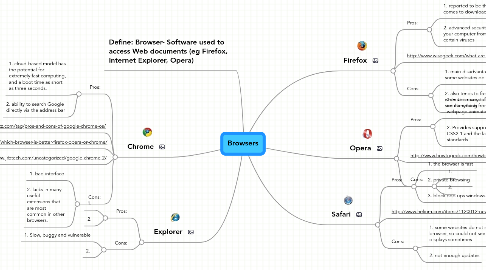 0.0
stars - reviews range from
0
to
5
Browsers
Define: Browser- Software used to access Web documents (eg Firefox, Internet Explorer, Opera)
Firefox
Pros:
1. reported to be the fastest browser when it comes to download speed
2. advanced security measures that protect your computer from spyware and even certain viruses
http://www.wisegeek.com/what-are-the-pros-and-cons-of-firefox.htm
Cons:
1. main disadvantage is compatibility, some websites do not show properly
2. also tends to freeze and close when too many tabs are open simultaneously
Chrome
Pros:
1. cloud-based model has the potential for extremely fast computing, and a boot time as short as three seconds.
2. ability to search Google directly via the address bar
http://techblizz.com/tag/pros-and-cons-of-google-chrome-os/
http://ohmyguru.blogetery.com/2010/02/26/which-browser-is-better-firefox-opera-or-chrome/
http://www.jrbtech.com/uncategorized/google-chrome-2/
Cons:
1. bad interface
2. lacks in many useful extensions that are most common in other browsers.
Safari
Pros:
1. the browser is fast
2. private browsing
3. block pop-ups windows
http://www.helium.com/items/1120012-new-browser?page=2
Cons:
1. some websites do not recognize browser, so could not see the displays sometimes
2. not enough updates
Explorer
Pros:
1.
2.
Cons:
1. Slow, buggy and vulnerable
2.
Opera
Pros:
1. Enables super fast and smooth graphics on everything from tab switching to webpage animation
2. Provides support for HTML5, CSS2.1 and the latest CSS3 standards
http://www.howtogeek.com/howto/12549/our-look-at-opera-10.50-web-browser/
Cons:
1.
2.