WEB 2.0 TECHNOLOGIES
by Yvette Rossouw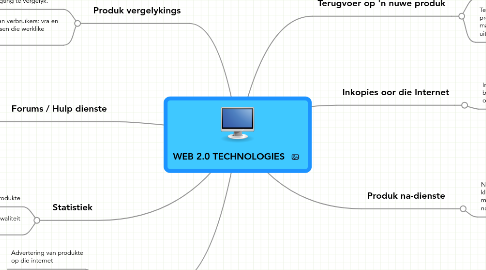 1. Terugvoer op 'n nuwe produk
1.1. Onderneming het 'n nuwe produk en wil weet of die kliënte van die produk hou.
1.2. Terugvoer op demo produkte (nuwe produkte wat nog nie op die mark si nie, maar wel aan 'n paar mense gegee is om uit te toets)
2. Inkopies oor die Internet
2.1. Inkopies oor die Internet word meestal benut deur gesinne waar albei die ouers of 'n enkel ouers voltyds werk.
3. Produk vergelykings
3.1. Genoeg inligting kan gevind word op 'n besigheid se webtuisste om met ander besighede se inligting te vergelyk.
3.2. Besprekings van verbruikers: vra en antwoorde tussen die werklike verbruikers.
4. Forums / Hulp dienste
4.1. Aanlyn hulp dienste is beskikbaar vir kliënte met vra of probleme.
4.2. 24/7 dienste
5. Produk na-dienste
5.1. Na 'n produk verkoop of verskaf is aan 'n kliënt kan die besigheid opvolg en seker maak die kliënt is tevrede en help waar nodig.
6. Statistiek
6.1. Opnames van verskillende produkte
6.2. Opnames van die kwaliteit van produkte
7. Bemarking
7.1. Advertering van produkte op die internet
7.2. Na 'n kliënt 'n spesifieke produk gekoop het word daar verwys na alternatiewe produkte