Nereida Ochoa: Netbooks
by
Nereida Ochoa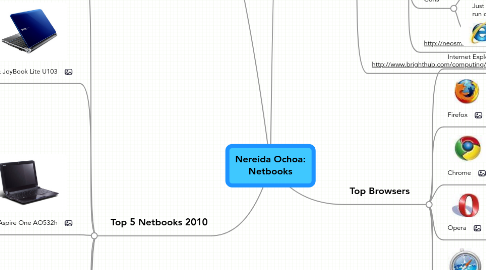 0.0
stars - reviews range from
0
to
5
Nereida Ochoa: Netbooks
Processors
Intel's Atom
Pros, Standard commercial software, including Windows XP and now Windows 7, is often designed to run on x86-based CPUs, Cost-effective yet High Performance, http://www.datarespons.com/templates/interrupt.aspx?id=30531, http://axiomtek.com/ad/atom.htm
Cons, Processor is a bit saggy used with Microsoft Vista, Designed for the smaller size devices, http://www.bestminilaptop.org/dell-inspiron-mini-12-intel-atom-processor-netbook-review.html
ARMS
Pros, ARM has held on tenaciously in consumer electronics such as mobile phones and PDAs, with a market share of over 90 percent., An ARM-based system typically uses as little as 2 watts, whereas a fully optimised Intel Atom solution uses 5 or 6 watts, http://www.datarespons.com/templates/interrupt.aspx?id=30531
Cons, They understand only a handful of different instructions, the minimum necessary to get the job done., Just because ARM can run on the desktop, that doesn't mean that ARM will run on the desktop: optimizations in the CPU world are always a compromise between performance and power consumption
http://neosmart.net/blog/2010/the-arm-the-ppc-the-x86-and-the-ipad/
http://www.brighthub.com/computing/hardware/articles/68644.aspx
Operating Systems
Windows 7
Pros, Stable, Introduced device management and security enhancements that make it both easier to use and safer
Cons, Gadget Selection, Jump lists; doesn't yet seem to work in Firefox
http://reviews.cnet.com/windows/microsoft-windows-7-professional/4505-3672_7-33704140.html?tag=txt;pagee
Linux
Pros, One of the most secure platforms, Capable of providing exceptional performance even on a smaller hard disk
Cons, Often viewed as more complex platforms, Lack of multimedia support
Chromium
Pros, Provides a calculator, clock, battery indicator, and network status indicator., Pages load a lot faster
Cons, Lack of being able to access a desktop, Can only use Chrome as a browser
http://en.wikipedia.org/wiki/Google_Chrome_OS
http://www.employees.org/~vibhu/?p=589
Android
Pros, Over 30,000 Android applications for download, Includes a device emulator, tools for debugging, memory and performance profiling
Cons, Android does not readily support Bluetooth file exchange, Android does not support videocalling.
http://en.wikipedia.org/wiki/Android_(operating_system)
Top Browsers
Internet Explorer
Pro:, It's the default browser on every Windows based netbook.
Con:, It's a target for most hackers and hence not very safe, plus it's pretty slow.
Firefox
Pro:, Comes with lots of customization options, add-ons and extensions.
Con:, Takes a lot of time to load at start.
Chrome
Pro:, Very quick to run and creates a different process for each tab/window.
Con:, There aren't as many options as on Firefox.
Opera
Pro:, Good, stable, and fast.
Con:, The Ask bar does not provide good searches.
Safari
Pro:, Simple to use.
Con:, Pretty slow and buggy.
http://www.netbooklive.net/whats-the-best-browser-to-use-o-a-netbook-2926/
http://opera.software.informer.com/10.0b/
http://www.ehow.com/list_6053930_advantages-safari-browser.html
Top 5 Netbooks 2010
Toshiba NB305
1.66GHz Intel Atom N450 processor
250GB hard drive
Windows 7 Starter Edition
Weight: 1.2kg
6-cell battery provides 11 hrs run time
10.1-inch display & 1024 x 600 resolution
BenQ JoyBook Lite U103
532GB maximum capacity
Weighs 1.1kg and measures under an inch thick.
Intel's new Atom® processor
Windows 7
Comes with 3-cell battery provides around 4 hrs run time. Optional 6-cell battery that runs for eight hrs
http://www.benq.com/press/News.cfm?id=2529&cat=0
Acer Aspire One AO532h
1.66GHz Intel Atom N450 processor
Windows 7 Starter Edition
250GB hard drive
10.1-inch 1024 x 600-pixel display
Standard 6-cell 4400mAh battery lasts eight hours, and the optional high-density 6-cell 5800mAh battery runs for up to 10 hours
Weighs only 1.1kg and measures less than an inch thick
HP Mini 210 HD
Enabled it to play 1080p movies
Windows XP or Windows 7
New Intel Atom N450 Processor
1GB of system memory
160GB4 hard drive for storing photos and songs (optional 250GB hard drive (available if Windows 7 is selected)
http://www.shopping.hp.com/webapp/series/category/notebooks/mini210_series/3/computer_store
Lenovo IdeaPad S10-3t
Ability to swivel the display 180 degrees to fold back onto the keyboard.
Capacitive touchscreen
1.83GHz clock speed
Intel Atom N470 processor
10.1-inch screen
320GB hard drive
Standard 4-cell battery that's good for four hours – the optional eight-cell battery brings the run-time up to 10 hours
http://apcmag.com/top-10-netbooks-that-will-excite-us-in-2010.htm?page=1