HOW BUSINESSES CAN USE WEB 2.0
by
Kayla Goosen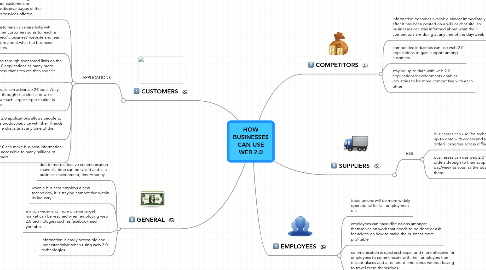 0.0
stars - reviews range from
0
to
5
HOW BUSINESSES CAN USE WEB 2.0
COMPETITORS
information becomes available almost immediately after it has been posted on a wiki or chat site, so businesses can stay informed about what their competitors are doing at anytime of the day/week
competitive industries can use web 2.0 applications to gain support among cusomers
staying up to date with web 2.0 applications/developments enables industries to be more competitive with each other
CUSTOMERS
APPLICATIONS
customers can use blogs to communicate with other customers on benefits/disadvantages of the products/services offered.
customers can share links with other customers so as to reach a specific business' website and learn more about what the business offers
the business can advertise through sponsored links on the search engine for web 2.0 applications as many more thousands of people access chat sites etc than specific business websites
businesses can advertise 24hours 7days a week through chat sites and wikis where a much larger target market is reached
using web 2.0 applications allows people to discuss the product/service with their friends on the same chat site at any time of the day/week
web 2.0 can make business information eaisly accessible to many millions of customers
SUPPLIERS
RSS
businesses can use Rss technology to stay up-to-date with orders and to track the orders' progress across different channels
businesses can use web 2.0 technologies to send orders through to their suppliers at anytime of the day/week as soon as the business realises it needs them
EMPLOYEES
trade unions will be more widely operational for fair employment etc
employees can have discussions amongst themselves on work that needs to be done or ask for advice on how to make the business more profitable
communication is quicker,cheaper and more effective for employees to communicate with their employers from distant places and at different time zones without having to travel there themselves.
GENERAL
due to more effective communication channels, time can be saved and in a business environment, time=money
when a business employs a new technology, it is staying competitive within its industry
a much wider and more diverse target market can be reached when employing web 2.0 technologies such as facebook and youtube.
information is easily accessible and understandable when using web 2.0 technologies