What I know about education technology - I know that education technology is an essential element for student success. This is not a new phenomenom. Technology has always been a vital component in education. Current students, though, must be equipped necessary to handle the powerful computer equipment and programs of today.
by Demario Lightsey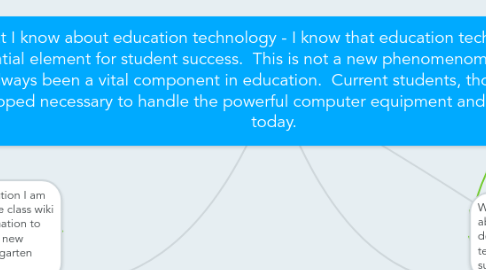 1. What I want to know about education technology - I want to know about current programs and websites that are geared towards developing the computer skills of pre - k students. Being a pre-k teacher, I am trying to better prepare the students I teach for success.
2. How am I going to find out - There are several methods for me to discover the information I am seeking. One method is for me to use my fellow classmates as a resource. Through the class wiki assignments, there is a wealth of knowledge that is presented and I can use this information to my benefit. Another method is t use search engines I am already familiar with and any new database I learn about in this course to research the topic of technology for pre-kindergarten students.
3. What did I learn about technology education? I have learned a great deal about technology. This class has been wonderful. I especially enjoyed learning about the note sharing applications and Google Docs. These applications are so useful. They make record keeping and communication much easier. I never knew about Google Docs before, and to see how convenient it is, it makes me fell as if I were living in the dark ages. Also, by having to complete this course, it has made me more resourceful as far as finding different types of technology and implementing them into my classroom. I found many videos and activities that I was not familiar with for Pre K that I have since implemented into my classroom, such as the 123kids "Shapes" video. They have an entire curriculum of videos that are geared towards early childhood education. Also, completing and viewing the class wikis was very helpful and resourceful. Being given different topics to research each week, such as homework websites and collaborative learning, created a wealth of knowledge for me to draw upon when implementing new types of technology in my classroom. I was able to research websites that I was not previously aware of and I appreciate that.