Web 2.0 technologies in a business environment
by Bradley Harper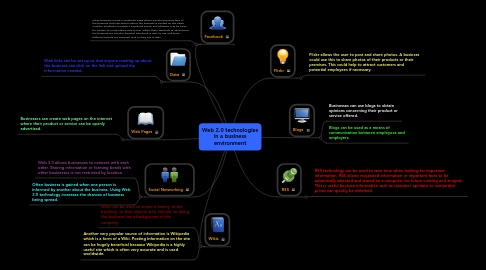 1. Blogs
1.1. Businesses can use blogs to obtain opinions concerning their product or service offered.
1.2. Blogs can be used as a means of communication between employees and employers.
2. Web Pages
2.1. Businesses can create web pages on the internet where their product or service can be openly advertised.
3. RSS
3.1. RSS technology can be used to save time when looking for important information. RSS allows requested information or important facts to be automically selected and stored on a computer for future viewing and analysis. This is useful because information such as customer opinions or competitor prices can quickly be obtained.
4. Social Networking
4.1. Web 2.0 allows businesses to network with each other. Sharing information or forming bonds with other businesses is not restricted by location.
4.2. Often business is gained when one person is informed by another about the business. Using Web 2.0 technology increases the chances of business being spread.
5. Wikis
5.1. Wikis can be used to create a history of the business, so that anyone who intends on doing the business has a background of the company.
5.2. Another very popular source of information is Wikipedia which is a form of a Wiki. Posting information on the site can be hugely beneficial because Wikipedia is a highly useful site which is often very accurate and is used worldwide.
6. Data
6.1. Web links can be set up so that anyone reading up about the business can click on the link and upload the information needed.
7. Flickr
7.1. Flickr allows the user to post and share photos. A business could use this to share photos of their products or their premises. This could help to attract customers and potential employees if necessary.
8. Facebook
8.1. Often business create a Facebook page where people becomes fans of the business and information about the business is posted on the page. Another method is creating a Facebook group and allowing it to be open for people to invite others and to join. Often these methods of advertising the business are popular because Facebook is easy to use and many different people are exposed to it as they use it daily.