How does where we live affect how we live?
by
Lee Carlton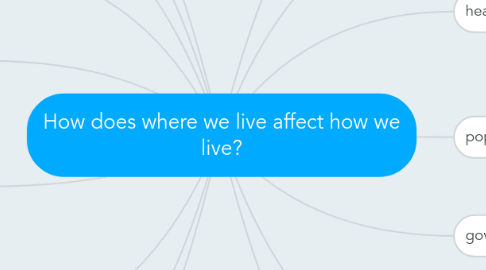 0.0
stars -
0
reviews range from
0
to
5
How does where we live affect how we live?
religion
India - Hinduism, USA - Christianity
Language
language and history
food and diet
vegetation and food sources
skin color
climate and equator
sports and hobbies
geography/climate
Ice hockey probably not played in Ghana, but not any more because of Globalization
transportation
cities and suburbs living closer or inside
clothing and resource
climate
housing
job opportunites
job availability
value of money -- location in the world
government
Europe - EU - easy travel access and the alliances that your country has benefit you
resource availability
what's available to you would make things very different
Globalization
medicines
education
country dictates what you learn
health
medical ammenities
food sources could be remedies, diet based
population
housing
entertainment
music
Language
geography is the fundamental basis -- 100s of years ago, geography completely dictates culture- now changing - Divine.
culture is affected by geography and history, history is a good set up because of the environment - Kojo
Type of land - affects population and farming and subsistence, job opportunites and urbanization
mentality
getting versus growing
lifestlye and population density