Tineka's Wikipedia MindMap of Gaming Devices
by
tineka simmonslarose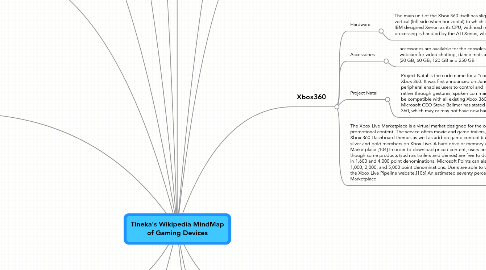 0.0
stars -
0
reviews range from
0
to
5
Tineka's Wikipedia MindMap of Gaming Devices
Nintendo
DS XL
DS
Wii Shop Channel-Dania Ortiz
The Wii Shop Channel is the online storefront and download station on the Wii console, where users may purchase Wii Points and redeem them to download new WiiWare or classic Virtual Console games.-Dania Ortiz
Wii-Virtual Console
The Wii Shop Channel is the online storefront and download station on the Wii console, where users may purchase Wii Points and redeem them to download new WiiWare or classic Virtual Console games.-Dania Ortiz
Portable Gaming
Sony
Microsoft
Pros
Xbox Live
When the Xbox 360 was released, Microsoft's online gaming service Xbox Live was shut down for 24 hours and underwent a major upgrade, adding a basic non-subscription service (Silver) to its already established premium subscription-based service (which was renamed Gold). Xbox Live Silver is free of charge and is included with all SKUs of the console. It allows users to create a user profile, join on message boards, and access Microsoft's Xbox Live Arcade and Marketplace and talk to other members.[100] A Live Silver account does not generally support multiplayer gaming; however, some games that have rather limited online functions already, (such as Viva Piñata) or games that feature their own subscription service (e.g. EA Sports games) can be played with a Silver account. Xbox Live also supports voice and video communication, the latter a feature possible with the Xbox Live Vision; an add-on USB web camera designed specifically for the Xbox 360.[101] The Gamercard of a player with a Silver account has a silver trim, rather than gold.
Xbox Live Gold includes the same features as Silver and includes integrated online game playing capabilities outside of third-party subscriptions. Microsoft has allowed previous Xbox Live subscribers to maintain their profile information, friends list, and games history when they make the transition to Xbox Live Gold. To transfer an Xbox Live account to the new system, users need to link a Windows Live ID to their gamertag on Xbox.com.[102] When users add an Xbox Live enabled profile to their console, they are required to provide the console with their passport account information and the last four digits of their credit card number, which is used for verification purposes and billing.
Xbox Multimedia
The Xbox 360 supports videos in Windows Media Video (WMV) format (including high-definition and PlaysForSure videos), as well as H.264 and MPEG-4 media. The December 2007 dashboard update added support for the playback of MPEG-4 ASP format videos.[65] The console can also display pictures and perform slideshows of photo collections with various transition effects, and supports audio playback, with music player controls accessible through the Xbox 360 Guide button. Users may play back their own music while playing games or using the dashboard, and can play music with an interactive visual synthesizer. Music, photos and videos can be played from standard USB mass storage devices, Xbox 360 proprietary storage devices (such as memory cards or Xbox 360 hard drives), and servers or computers with Windows Media Center or Windows XP with Service Pack 2 or higher within the local-area network in streaming mode.[66][67] As the Xbox 360 uses a modified version of the UPnP AV protocol,[68] some alternative UPnP servers such as uShare (part of the GeeXboX project) and MythTV can also stream media to the Xbox 360, allowing for similar functionality from non-Windows servers. This is possible with video files up to HD-resolution and with several codecs (MPEG-2, MPEG-4, WMV) and container formats (WMV, MOV, TS).[69]
Nintendo DS Lite
Dual Screen-Dania Ortiz
Multiplayer & Downloads-Dania Ortiz
Game Boy™ Advance Compatibility-Dania Ortiz
PictoChat-Dania Ortiz
Microphone-Dania Ortiz
Touch Screen Technology-Dania Ortiz
Xbox360
Hardware
Accessories
Project Natal
The Xbox Live Marketplace is a virtual market designed for the console that allows Xbox Live users to download purchased or promotional content. The service offers movie and game trailers, game demos, Xbox Live Arcade games, gamertag images, and Xbox 360 Dashboard themes as well as add-on game content (items, costumes, levels etc). These features are available to both silver and gold members on Xbox Live. A hard drive or memory unit is required to store products purchased from Xbox Live Marketplace.[104] In order to download priced content, users are required to purchase Microsoft Points for use as scrip;[105] though some products (such as trailers and demos) are free to download. Microsoft Points can be obtained through prepaid cards in 1,600 and 4,000 point denominations. Microsoft Points can also be purchased through Xbox Live with a credit card in 500, 1,000, 2,000, and 5,000 point denominations. Users are able to view items available to download on the service through a PC via the Xbox Live Pipeline website.[106] An estimated seventy percent of Xbox Live users have downloaded items from the Marketplace.
Xbox Arcade
Pros:
PlayStation3
120GB System
250GB System
PlayStation® Move, The most immersive gaming experience possible Using advanced motion sensors and the PlayStation®Eye Camera, your every movement is mimicked on-screen in breathtaking Blu-ray powered HD. Take core gaming to a new level or bring your whole family in on the adventure with a title line up that will excite every gamer. http://us.playstation.com/ps3/playstation-move/index.htm
Nintendo
Wii
PC Gaming
Alienware
Xbox Elite
Pros:
Elite 250GB