Tech-era L2 writing: towards a new kind of process (By Paul Stapleton and Pavlina Radia)
by
Kriszta Pozsonyi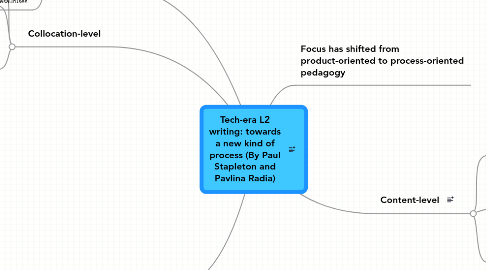 0.0
stars - reviews range from
0
to
5
Tech-era L2 writing: towards a new kind of process (By Paul Stapleton and Pavlina Radia)
Stapleton, Paul, and Pavlina Radia. "Tech-era L2 writing: towards a new kind of process." ELT Journal 64.2 (2010): 175-183.
Collocation-level
Add-Ins
Check My Words, Tutorials available!, "Word Combination", "Word Neighbors"
Mark My Words
Focus has shifted from product-oriented to process-oriented pedagogy
Word-level
word processors
e.g. Word :)
pocket (online) translators
e.g. Sztaki
electronic thesauruses
Paragraph level
average sentence length
lexical density, lexical density of different levels/types of texts
Content-level
teach students how they can check the reliability of the sites
Google
Specialized search engines
send an e-mail to the author!
Google Scholar
Scopus
Web of Science
Wikipedia
should be allowed for use!