Frambee website
by Shoeb Mohammad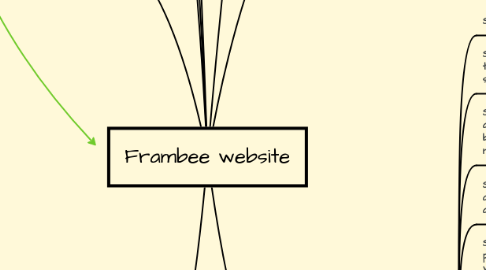 1. Purpose of the site
1.1. To serve as a marketplace for customers will be able to create custom apparel projects that suppliers will be able to bid their services on.
1.1.1. similar to elance
2. Targeted audience for the site
2.1. Initially organizations or sports teams for phase 1
3. Important features of site
3.1. Site to be developed using custom codes
3.2. Responsive web design functional across :-
3.2.1. Desktops
3.2.2. Tablets
3.2.3. Smartphones
3.3. Escrow Feature for security of payment
3.3.1. Similar to Elance Escrow feature
3.4. Multiple Payment Gateways integration
3.5. Feedback and Rating System
3.5.1. Similar to Elance rating system
3.6. Email Notifications feature
3.7. No membership feature required for phase 1 of development
3.8. Private Messaging area for customers and Suppliers to discuss project in detail
3.8.1. Similar to Elance PMB feature
3.8.1.1. Ability to share files, images document etc related to project
3.9. Filter functionality to search for jobs
3.9.1. location
3.9.2. Keywords
3.9.3. Ranking
3.10. Ability to customize site for further phases of development based on requirements.
3.11. Verification process for users
4. Highlighted features of site
4.1. Ability for customer to visually design their apparel using an existing module
4.1.1. T-shirt to be customized for phase 1
4.1.1.1. Chose color
4.1.1.2. Chose the material/type of shirt, and size
4.1.1.3. Quantity
4.1.1.4. Ability to upload and place an image or multiple images on a part of the shirt(back,shoulder, chest, etc)
4.2. Site would charge a fixed fee on each transaction.
4.2.1. Similar to Elance fee
4.3. Only fixed price projects for phase 1 of development
4.3.1. Ability to divide projects in deliverable milestones
4.3.1.1. Time
4.3.1.2. Cost
4.4. Types of users
4.4.1. Admin
4.4.2. client/Customer
4.4.3. Supplier/bidder
5. Admin
5.1. Admin will have ability to manage both client and supplier accounts completely
5.2. Admin will have complete authority of site
5.3. Admin to verify both users on site through Email verification i.e
5.3.1. Client
5.3.2. Supplier
5.4. Admin can manage the payment for membership
5.4.1. For later phase of development
5.5. Admin can manage the Content and Images Etc.
5.6. Admin will have the right to deactivate membership of users based on violation of rules
5.6.1. Temporary suspension
5.6.2. Permanent deactivation
5.6.2.1. For regular defaulters
6. CLIENT
6.1. Client will have the ability to send invite for jobs
6.2. client will have add to wishlist feature
6.3. Clients will register themselves as a Customer. The registration would continue standard registration items for any site such as eLance
6.4. Clients will create his profile and this should contain the option to have payment methods set up (credit cards, debit cards, paypal)
6.5. Clients have to verify their email id to get proper information about applications.
6.6. Clients have to verify their payment verification In order to hire a Freelancer, Client will be required to have a credit card or Paypal on file.
6.7. Clients will have a profile page where they can upload an image, view past projects, manage payment methods
6.8. Clients can post the project with their project requirements, options that should be available would include: budget range, location preference (if they want to source locally), quantity, delivery date requested, type of apparel. Project creation page would have a summary description of the project along with a title. Clients would also be able to upload images. Clients would then be shown a preview of their project page and asked to verify
6.9. The design tool would be for t-shirts only at the onset, the purpose of the tool would be as a supplement to the project page where suppliers can look at what specifically the customer is looking for visually rather than through conversation.
6.10. Client would have a project workroom page where they can see bids, send message, time remaining and have a chart that visually compares bids by: price, eta, supplier rating
6.11. After evaluating different proposal Client can open a personal chat through which Client can communicate with seller.
6.12. Client can also send and receive documents within this communication space.
6.13. Client can then award the job to one of the supplier, similar to elance by selecting.
6.14. Client can do payment for their project through the site, transactions should be a flat charge. Transaction page would allow client to chose method of payment and send payment to supplier. Factored in the payment receipt would be price and estimated shipping charge (which would be entered by the supplier as part of bid)
6.15. Client would need to mark the project complete and be prompted to assign a rating to supplier and write a review
7. Supplier
7.1. Suppliers will have add to wishlist feature
7.2. Supplier will register themselves as a Project solver.
7.3. Supplier will create their profile where they can mention about their previous work experience and skills. They would be required to supply address, contact info, and company name
7.4. Supplier would have to be approved by an administrator, then sent a notification of approval to email
7.5. Supplier have to verify their bank or paypal information for where payment would go to
7.6. Supplier would have a profile page that lists their previous work and reviews, also can upload images and links to previous work done
7.7. Suppliers would have a page where they can manage their settings, view their dashboard of projects won and pending, check their accounts, view past jobs
7.8. Supplier can search and select the job according to their skills, date posted, keyword search, location, budget range.
7.9. When Supplier will get any reply from the client side then they can communicate on the job and after communication the client can award a job to Supplier. In this communication portal similar to eLance they can message back and forth and upload documents
7.10. Supplier is either awarded the project or notified that they have not been selected. If awarded project client will send supplier payment
7.11. Supplier is awarded project, they will continue to have access to communication on the job page. Within the job page client should have ability to ask for status. Supplier will have area to update status from started, completed, shipped and then client marks project as "delivered"
7.12. Once project is marked delivered, supplier will be able to give client feedback and rating
8. Query section
8.1. Please explain the dispute resolution process in detail.
8.1.1. Will it be similar to Elance dispute resolution process?
8.2. Kindly explain the job cancellation process in detail
8.3. Elaborate on "code of conduct" for your site