Dania Ortiz: Gaming
by
Dania Ortiz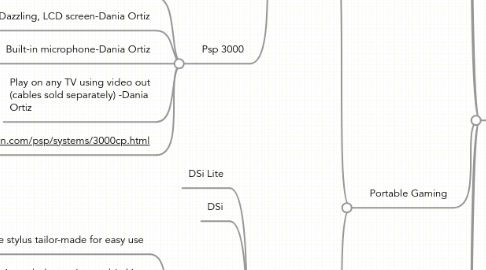 0.0
stars -
0
reviews range from
0
to
5
Dania Ortiz: Gaming
Gaming
Microsoft
Pros, Part of what made the Xbox special was its ability to look beyond gaming and apply the power of networking before the others could do so effectively.
Xbox Arcade, Pros:, It includes a wireless controller, composite AV cable, HDMI 1.2 output, an internal 512 MB[20] memory chip
Xbox Elite, Pros:, It includes a 120 GB hard drive and a matte black finish., Elite 250GB, The Xbox 360 Elite has also been configured with a 250 GB hard disk drive and 2 wireless controllers on special limited editions of the console.
Xbox360, Hardware, The main unit of the Xbox 360 itself has slight double concavity in matte white or black., Accessories, Many accessories are available for the console, including both wired and wireless controllers, faceplates for customization..., Project Natal, Project Natal is the code name for a "controller-free gaming and entertainment experience" for the Xbox 360., Multimedia, The Xbox 360 supports videos in Windows Media Video (WMV) format (including high-definition and PlaysForSure videos), as well as H.264 and MPEG-4 media. The December 2007 dashboard update added support for the playback of MPEG-4 ASP format videos.[65] The console can also display pictures and perform slideshows of photo collections with various transition effects, and supports audio playback, with music player controls accessible through the Xbox 360 Guide button. Users may play back their own music while playing games or using the dashboard, and can play music with an interactive visual synthesizer. Music, photos and videos can be played from standard USB mass storage devices, Xbox 360 proprietary storage devices (such as memory cards or Xbox 360 hard drives), and servers or computers with Windows Media Center or Windows XP with Service Pack 2 or higher within the local-area network in streaming mode.[66][67] As the Xbox 360 uses a modified version of the UPnP AV protocol,[68] some alternative UPnP servers such as uShare (part of the GeeXboX project) and MythTV can also stream media to the Xbox 360, allowing for similar functionality from non-Windows servers. This is possible with video files up to HD-resolution and with several codecs (MPEG-2, MPEG-4, WMV) and container formats (WMV, MOV, TS).[69], Xbox Live, When the Xbox 360 was released, Microsoft's online gaming service Xbox Live was shut down for 24 hours and underwent a major upgrade, adding a basic non-subscription service (Silver) to its already established premium subscription-based service (which was renamed Gold)., Xbox Live Gold includes the same features as Silver and includes integrated online game playing capabilities outside of third-party subscriptions., The Xbox Live Marketplace is a virtual market designed for the console that allows Xbox Live users to download purchased or promotional content., New Xbox Experience, At E3 2008, at Microsoft's Show, Microsoft's Aaron Greenberg and Marc Whitten announced the new Xbox 360 interface called the "New Xbox Experience" (NXE). The update was intended to ease console menu navigation. Its GUI uses the Twist UI, previously used in Windows Media Center and the Zune. Its new Xbox Guide retains all Dashboard functionality (including the Marketplace browser and disk ejection) and the original "Blade" interface. The NXE also provides many new features. Users can now install games from disc to the hard drive to play them with reduced load time and less disc drive noise, but each game's disc must remain in the system in order to run. A new, built-in Community system allows the creation of digitized Avatars that can be used for multiple activities, such as sharing photos or playing Arcade games like 1 vs. 100. The update was released on November 19, 2008.[64] While previous system updates have been stored on internal memory, the NXE was the first to require a storage device—at least a 128 MB memory card or a hard drive.
Sony
PlayStation3, 120GB System, 120GB HDD for storing games, music, videos and photos-Dania Ortiz, High-Definition Blu-ray player for the best movie experience-Dania Ortiz, Internet ready with built-in Wi-Fi-Dania Ortiz, Two USB ports-Dania Ortiz, Cell Broadband Engine advanced microprocessor-Dania Ortiz, http://us.playstation.com/ps3/systems/120gb.html, 250GB System, 250GB HDD for storing games, music, videos and photos-Dania Ortiz, High-Definition Blu-ray player for the best movie experience-Dania Ortiz, Internet ready with built-in Wi-Fi-Dania Ortiz, Two USB ports-Dania Ortiz, HDMI output for 1080p resolution (cable sold separately)-Dania Ortiz, Plays DVDs and CDs-Dania Ortiz, Cell Broadband Engine advanced microprocessor-Dania Ortiz, http://us.playstation.com/ps3/systems/250gb.html, Using advanced motion sensors and the PlayStation®Eye Camera, your every movement is mimicked on-screen in breathtaking Blu-ray powered HD., http://us.playstation.com/ps3/playstation-move/index.htm
Portable Gaming
Sony, Psp Go, Ultra-portable design. 43% smaller than the original PSP® system and no discs to carry., http://us.playstation.com/psp/systems/pspgo-white.html, Robust gameplay and crisp graphics that are only possible on the PSP®go system, 16 GB of Flash Memory provides plenty of space for games, movies, TV shows, photos and much more, Sleek, slide screen design easily fits into your pocket, Bluetooth® Enabled, Full multimedia capabilities including music, photos, videos, internet browsing, SkypeTM, internet radio and many more, Psp 3000, Light, slim and portable. Play games, movies, music and more-Dania Ortiz, Dazzling, LCD screen-Dania Ortiz, Built-in microphone-Dania Ortiz, Play on any TV using video out (cables sold separately) -Dania Ortiz, http://us.playstation.com/psp/systems/3000cp.html
Nintendo, DSi Lite, DSi, DS XL, A large stylus tailor-made for easy use, http://www.nintendods.com/meet-dsi-xl.jsp, Two screens, 93% larger than Nintendo DS Lite, 3 pre-installed titles + built-in software, DS, Nintendo WiFi Connection-Dania Ortiz, Multi player-Dania Ortiz, PictoChat-Dania Ortiz, DS Lite, Dual Screen-Dania Ortiz, Two ultra bright LCD screens for double the action-Dania Ortiz, http://www.nintendo.com/ds/systems/lite, Multiplayer & Downloads-Dania Ortiz, Local wireless network for your Nintendo DS System .-Dania Ortiz, http://www.nintendo.com/ds/systems/lite, Game Boy™ Advance Compatibility-Dania Ortiz, Plays hundreds of existing Game Boy™ games-Dania Ortiz, http://www.nintendo.com/ds/systems/lite, PictoChat-Dania Ortiz, You can create drawings and text messages with your stylus-Dania Ortiz, http://www.nintendo.com/ds/systems/lite, Microphone-Dania Ortiz, Spoken commands in specially designed games-Dania Ortiz, http://www.nintendo.com/ds/systems/lite, Touch Screen Technology-Dania Ortiz, Touch technology on the bottom screen. .-Dania Ortiz, http://www.nintendo.com/ds/systems/lite
Nintendo
Wii, Create your own Mii character to star in Wii games-Dania Ortiz, Create fun 3D caricatures of yourself and everyone you know-Dania Ortiz, http://www.nintendo.com/wii/channels/miichannel, Nintendo Wi-Fi Connection-Dania Ortiz, Nintendo® Wi-Fi Connection puts you in touch with players everywhere-Dania Ortiz, http://www.nintendo.com/games/wifi, Internet Channel -Dania Ortiz, Everyone can browse the Internet with ease-Dania Ortiz, http://www.nintendo.com/wii/channels/internetchannel, Wii Shop Channel-Dania Ortiz, Online storefront and download station on the Wii console-Dania Ortiz, http://www.nintendo.com/wii/virtualconsole, http://www.nintendo.com/wii/what, Photo Channel, Display your digital images and movies on your television screen-Dania Ortiz, http://www.nintendo.com/wii/channels/photochannel, Everybody Votes Channel, Everybody Votes Channel works with WiiConnect24 to bring you all kinds of national and worldwide polls. -Dania Ortiz, http://www.nintendo.com/wii/channels/everybodyvoteschannel, Virtual Console, Users may purchase Wii Points and redeem them to download new WiiWare or classic Virtual Console games.-Dania Ortiz, http://www.nintendo.com/wii/virtualconsole, WiiWare, Online storefront and download station-Dania Ortiz, http://www.nintendo.com/wii/wiiware
PC Gaming
Alienware, Laptop, Alienware M11x, 1GB NVIDIA® GeForce® GT 335M™ Graphics Card, Up to 8.5 hours of battery life and weighs in at less than 4.5lbs, Capable of 3DMark06 Scores over 6100, Alienware M15x, Intel Core i7 720QM 1.6GHz, Dimensions: (W)14.8" (D)12.2" (H)1.92", AlienFX® Illuminated Keyboard, Internal High-Definition 5.1 Surround Sound, 250GB SATAII 7,200RPM, 3GB DDR3 at 1066MHz, 512MB NVIDIA® GeForce® GT 240M, Alienware M17x, Intel® Core™2 Duo P8600 2.4GHz, Internal High-Definition 5.1 Surround Sound, Dimensions: (W)16.1" (D)12.6" (H)2.1", AlienFX® Illuminated Keyboard, 250GB 7,200RPM w/ Free Fall Protection, 4GB Dual Channel DDR3 at 1066MHz, Single NVIDIA® GeForce® GTX 260M, 1GB, http://www.alienware.com/Landings/laptops.aspx