Zoran Touch Screen Smart Phone
by
Zoran Jones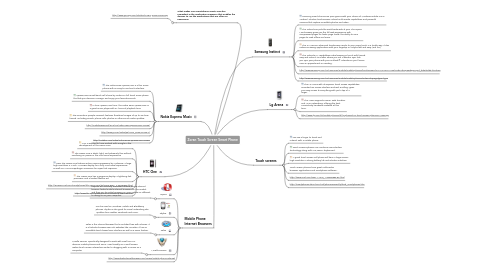 0.0
stars - reviews range from
0
to
5
Zoran Touch Screen Smart Phone
Nokia Express Music
The Nokia 5530 XpressMusic is a thin music phone with an easy-to-use touch interface.
XpressMusic Quad-band Cell Phone by Nokia is a full touch music phone that lets you discover, manage, and enjoy your favorite sounds.
In true XpressMusic form, the Nokia 5530 XpressMusic is a great music player with 27 hours of playback time.
The innovative 'people carousel' features thumbnail images of up to 20 close friends including emails, phone calls, photos or other social media updates.
http://mobilenewz.net/2010/04/nokia-5530-xpressmusic-review/
http://www.jr.com/nokia/pe/NOK_5530WHTBLU/
http://mobibu.com/nokia/nokia-5530-xpressmusic-review
Lg Arena
The LG Arena with its superior touch screen capabilities, animated 3D screen interface and reel scrolling, gives you easy access to everything with just a tap of a finger.
The Arena supports HSDPA web transfers and Wi-Fi networking, offering the best connectivity hardware available at this time.
http://www.lg.com/uk/mobile-phones/all-lg-phones/LG-touch-screen-phones-KM900.jsp
Samsung Instinct
Samsung Smart Phones are pure genius with your choice of Windows mobile OS or Android intuitive touchscreens, robust multi-media capabilities, and powerful cameras that capture incredible photos and video.
The Instinct s30 puts the world wide web at your The Opera Mini browser gives you the full web experience with compressed pages for faster page loads, the ability to save pages to read offline and more..
This SAMSUNG advanced touchscreen reacts to your every touch in a tactile way. It also makes accessing applications with your fingertip or a stylus fast and easy (and fun).
The Instinct's IM capabilities make keeping in touch with friends easy and instant, no matter where you are. Calendar Sync lets you sync your phone with your Outlook® calendar so you'll never miss an appointment or meeting.
http://www.samsung.com/us/consumer/mobile/mobile-phones/touchscreen/SPH-M810HAASPR/index.idx?pagetype=prd_detail&tab=features
http://www.samsung.com/us/consumer/mobile/mobile-phones/index.idx?pagetype=type
HTC One
HTC is excited to have worked with Google in the development of the Nexus One.
The Nexus One is sleek, light, and extremely thin without sacrificing on power or the vivid visual experience
New The Nexus One features active noise suppression by Audience, a large high-resolution 3.7-inch AMOLED display for a truly vivid visual experience, as well as a 1GHz Snapdragon Processor for super fast response.
The Nexus One has a gorgeous display, a lightning-fast processor, and a loaded feature set.
http://reviews.cnet.com/smartphones/htc-nexus-one-by/4505-6452_7-33906802.html
http://www.htc.com/www/product/nexusone/overview.html
What makes your smartphone smart? One key ingredient is the application processor that enables the devices to run the applications that are often so impressive.
http://www.pcmag.com/article2/0,2817,2360152,00.asp
Touch screens
can use a finger to touch and interact with a mobile phone.
Touch screens phones can combine user interface technology along with a QWERTY keybooard.
A good touch screen cell phone will have a large screen, high resolution a strong battery life and intuitive interface.
Touch screen phones have great multimedia, browser, applications and smartphone software .
http://www.cnet.com/8301-17918_1-20000582-85.html
http://smartphones.about.com/od/phonereviews/tp/best_smartphones.htm
Mobile Phone Internet Browsers
Opera
Skyfire
Safari
Mozilla Fennec
http://www.bestinternetbrowser.com/review/mobile-phone-internet