Wendy Cardenas Nexus One vs. Smartphones
by
Wendy Cardenas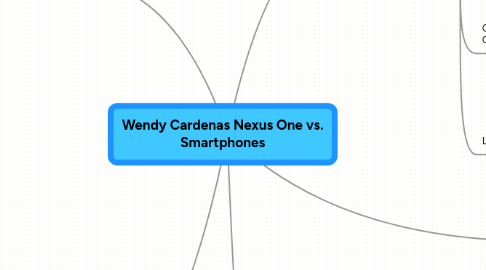 0.0
stars -
0
reviews range from
0
to
5
Wendy Cardenas Nexus One vs. Smartphones
Nexus One
Operating System: Android 2.1
Processor: Snapdragon
Carrier: T-Mobile, with Sprint, AT&T, Verizon coming soon
Browser: Google
Pros (Contributed by Kenya Morales):
Weighs 130 grams and is 11.5 millimeters thick.
Wi-Fi video stream for over 3 hrs.
Self-adjusted brightness
5 megapixel snapper with flash
Assign Google Voice number to phone and use it for outbound calls and texts
Cons (Contributed by Wendy Cardenas):
Choice of color
No physical camera key
Color balance
Tinny loudspeaker
Dated music player
Links
http://www.engadget.com/2010/01/04/nexus-one-review/
http://www.google.com/phone?utm_campaign=nexus-ha_sem-3&utm_medium=ha_sem&utm_source=en-ha_sem-us-bk-nexus-txt&utm_term=nexus%20one
Palm Pre
Operating system: Palm webOS
Processor: Dual-band CDMA2000 3G: EvDO Rev A
Carrier: Sprint
Browser: HTML based
Pros:
Touch Screen
Great web-surfing program
Built-in GPS, Wi-Fi, stereo
Cons:
Small screen
No video recorder
Links
http://www.palm.com/us/products/phones/pre/#feature_web
http://cell-phones.toptenreviews.com/smartphones/palm/palm-reviews-49311.htm
Blackberry Storm
Operating System: Blackberry OS 5.0
Processor: MSM7600
Carrier: Verizon
Browser: mobile Blackberry
Pros:
Wi-Fi
Double the memory of the first version
Cons:
Verizon Warranty voids if faster updates downloaded
Sluggish touch screen
Clunky browser
Links
http://cell-phones.toptenreviews.com/smartphones/blackberry/blackberry-storm-2-review.html
Droid
Operating System: Android 2.0
Processor: CDMA 1X 800/1900, EVDO rev. A
Carrier: Verizon
Browser: WebKit HTML5
Pros:
Fast speed
Larger screen
Excellent browser
Cons:
Poor voice quality
Touch screen little too sensitive
Unwanted slide out on keyboard
Links
http://cell-phones.suite101.com/article.cfm/droid-vs-iphone-verizon-vs-att
http://www.motorola.com/Consumers/US-EN/Consumer-Product-and-Services/Mobile-Phones/ci.Motorola-DROID-US-EN.alt
http://www.wayneschulz.com/2010/01/google-nexus-one-phone-v-droid-pros-and-cons/
iPhone
Operating System: OS 3.1
Processor: 620MHz ARM CPU
Carrier: AT&T
Browser: Safari
Pros:
Multitasking: Ability to switch back and forth between apps without shut down
Thin, sleek design.
Merge iPhone OS and iPad OS
Support to read, but not edit, Microsoft Word, Excel, PowerPoint, Adobe PDF files.
High-quality pre-installed applications
Cons:
Tied to expensive multi-year contracts in many countries.
Battery life insufficient for heavy users.
Substantially larger capacity iPod models available for less money
No built-in photo editing
No wi-Fi syncing
Links
http://www.everyipod.com/iphone-faq/iphone-3g-pros-and-cons.html
http://news.cnet.com/8301-13579_3-20002318-37.html?tag=hotTopicsBody.1
http://news.cnet.com/8301-31021_3-20001799-260.html?tag=mncol;mlt_related
http://www.diffen.com/difference/Apple_iPhone_3G_S_vs_Motorola_Droid
http://reviews.cnet.com/8301-19512_7-20002095-233.html?tag=mncol;mlt_related