SundaySchool thoughts of Luke
by
Leo Tang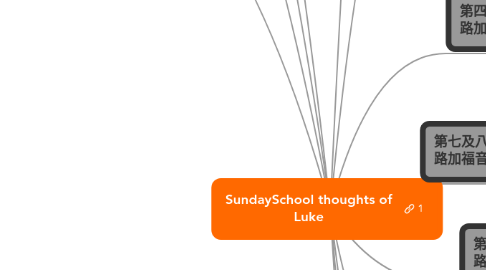 1.0
stars -
1
reviews range from
0
to
5
第十三課: 第廿二至廿四章
Luke 22
Background 背景
Date寫作日期
The abrupt ending of Acts may be the single most important factor in deriving a date. Luke leaves the reader with Paul being in Rome and waiting to present his case before Caesar. The best explanation for this is that Acts was finished before he Paul's final outcome was known. This would place Acts in the early Sixties with the Gospel of Luke being written in the late Fifties or early Sixties.
Location寫作地點
Purpose 目的
Extra resources 更多參考資源
Interesting points 有趣的點子
Who's the first prophet?
兩次為耶城哀哭 13&19 有錢人的教導 11-19
Hauerwas, 134 of 敘事與倫理
The Exorcism Stories in Luke-Acts: A Sociostylistic Reading
in order?
Difficult to answer
拉丁文頌唱歌曲
洗禮、浸禮:異同
聖經記載,耶穌最開心的是哪一事件?
What did Theophilus think? 提阿非羅在想甚麼???
主日學
要求
有功課
Luke was not writing to Theophilus exclusively, but that the two-volume work was intended to be distributed for ecclesiastical purposes. 路加的著作並不單為Theophilus而寫,而是刻意為到分給教會而寫的。
第二及三課經文點滴: 路加福音第一至四章
馬利亞點教養耶穌?父糸社會及拉比教育 Unity & Diversity, James Dunn. Pros & cons to it: Not merely one (level of) meaning to the text interpretation; not all texts have more than one meaning; too limited knowledge to investigate, eg. toddler walk, primary kids vote for legislative council... 大學生、博士都不一定啱哂!
Luke 1
Luke 2
Luke 3
Luke 4
第四至六課經文點滴: 路加福第五至六章
Luke 5
Luke 6
第四章下半部份
第七及八課經文點滴: 路加福音第七至九章
Luke 7
Luke 8
Luke 9
第九課經文點滴: 路加福音第十至十二章
Luke 10
Luke 11
Luke 12
第十課經文點滴: 路加福音第十三至十五章
Luke 13
Luke 14
Luke 15
第十一課經文點滴: 路加福音第十六至十九章
Luke 16
Luke 17
Luke 18
Luke 19
第十二課: 第二十至廿一章
Luke 20