ESPNET
by
luisanna fiorini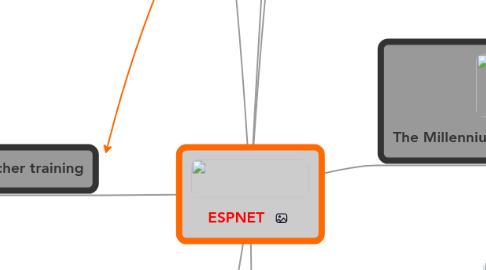 0.0
stars - reviews range from
0
to
5
ESPNET
The Millennium Project Hopes, Aspirations and Predictions for the New Millennium. Contributions from schools around the world participating in the Millennium Project. This calendar works like an Advent Calendar. On each day leading up to the end of the millennium you can open a new link to the contributions made by schools in a country. You can read all contributions up to the present day by following those links but you won't be able to open links for days in the future until the date shown.
Women all over the World Female students have to become more active in using the Internet and other info technology. We need to create areas where women are exposed as good examples for younger women in society. The project core is to collect and publish on web pages information on women who have had influence on society in various ways and fields in each country. They could be active in professional life today or historical persons from each country involved. Identical questions will be put to the persons to compare similarities or differences.  
Teacher training
Promise
Other projects
Energy on the Move The project aims to offer a challenging context for pupils of secondary schools in different European countries by bringing them in contact with researchers from all over Europe. While asking questions to the scientists by Electronic Mail every school tries to develop a scenario for the European Energy-supply in the year 2100
"Sea your Future" The European Contest is organised under the auspices of the 'European Collaborative for Science and Technology Exhibitions' (ECSITE). The Dutch part of the contest is being conducted by the Dutch Foundation for Science and Technology Communication (WeTeN)
BioNet is a German initiative to support scientific environmental projects. Some of the projects are sponsored by the Comenius - Socrates action.
Art Through Children's Eyes and a Computer Mouse  was a Comenius 1 project for cross curricula art in primary education that started under ECOLE and ESPA. This project aims to develop students' attitude to art, their observation, creativity and the use of ICT for creating artworks on national and international level.
A lot of links are dead
The European Schools Project Association (ESP Association) was founded in 2005. The Association is a collaborative open network organization. It builds on the European Schools Project that started in 1988, on the work done in the Comenius3 thematic networks ECOLE and COMP@CT, and on all related inspiring experiences and expertise that all members of the international ESP-Association make available to their fellow members, and to all others. Teleprojects and e-Journalism are the main educational concepts based on computer supported collaborative learning (CSCL) that lie at the basis of the activities within the ESP-Association.   The association aims at the improvement, and the promotion of (ICT-based) innovation of education in Europe and beyond. It attempts to achieve its aims, by: •    promoting collaboration and cooperation between pupils, students, educators and researchers, •    availing access to international networks, •    promoting and supporting professional development of teachers and educators, •    developing innovative concepts, instruments and content, •    performing research, •    and in addition by (helping) generating all ideas to make and keep our schools good places for children and adults to be in, for continuously educating responsive and responsible participants in future society.   Become a member and benefit from the membership, but also as a non-member you are invited to use some of our materials and resources. When re-using our materials, please respect the Creative Commons License by mentioning the original source.
About ESP - more The European Schools Project (ESP) started in 1988. A central concept was introduced and refined to structure computer-supported collaborative learning: the teleproject. The concept encompasses Internet-based collaborations between teachers and pupils around 'conversation' topics that are thought to be relevant for learning and teaching of all participants in the project. The topics demand active and authentic learning of the pupils, while for the collaboration a mutual foreign language, and electronic mail or Virtual Learning Environments are used. Since 1988 (when ESP's conception happened) , thousands of participating teachers have designed and organised many thousands of teleprojects, on hundreds different conversation topics, using many languages. Tens of thousands of pupils in many countries of the world, many of which European, have taken part in it. Various aspects were researched, educational materials were developed and produced, examples of good practice gathered, and teacher education, both pre-service and in-service, organised. And slowly ESP as educational network organisation emerged with a culture of generosity: as collaboration is at the heart of educational activities, One is no-one without the Other with whom the mutual learning is done. Within the Comenius3 action the European Collaborative Learning ECOLE-network was created in 2001, in which is built both on ESP-experiences and expertise, and on Comenius best practices. Its aims focussed on making available web-based content for computer supported collaborative learning projects, e-learning courses for teachers' professional development, information on new ICT-tools and electronic learning environments, and support for transforming Comenius projects into interactive electronic collaboration projects. The theme of the network is 'Educational Use of ICT'. ECOLE has one sister-network in this thematic area, the COMP@CT network. Comp@ct (Comenius Multimedia Projects and Communication Technologies) is an educational network supported by the European Commission under the 2001–2004 Socrates programme. Its purpose is to help Comenius schools in their ICT-related project activities. Comp@ct has strong roots in this area as a result of experience gained from the CoMuNet and PICT thematic networks in a previous phase of activity since 1996.   By the end of 2004 ESP, ECOLE and Comp@ct faced the challenge of how to create a new larger collaborative open network organisation to which everyone can belong. Thus in March 2005 the different activities within ESP, ECOLE and COMP@CT were joined in a new international Association: the European Schools Project Association or ESP Association in short. This Association has as aims to keep on improving learning, teaching and schools with the use of ICT by supporting mutual learning of pupils, students, teachers, educators, researchers within a virtual community
Projects
Teleprojects
Teleprojects are collaborative distance learning projects designed by teachers from various countries around a part of curriculum that is thought to be mutually relevant. Leading idea of a teleproject is the combination of local research of pupils around a certain topic and exchange of, and conversation on research results with partner-schools, using a foreign language and electronic mail. Both domain specific teachers, foreign language teachers, and informatics teachers can help improve the activities of their pupils and make new educationally relevant activities possible when participating in teleprojects. The past years teleprojects have been conducted on a variety of subjects. Participants at ESP conferences always try to find partners and work on their future projects.
InformationPoint