Comprehension Skills
by
Teo YY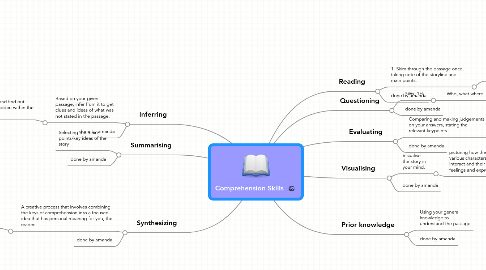 0.0
stars - reviews range from
0
to
5
Comprehension Skills
Reading
1. Skim through the passage once, taking note of the storyline and main points.
done by amanda
Questioning
5Ws, 1H
done by amanda
Evaluating
Comparing and making judgements on your answers, stating the relevant keypoints
done by amanda
Inferring
Based on your given passage, infer from it to get clues and ideas of what was not stated in the passage.
done by amanda
Prior knowledge
Using your general knowledge to understand the passage
done by amanda
Synthesizing
A creative process that involves combining the keys of comprehension into a focused idea that has personal meaning for you, the reader.
done by amanda
Summarising
Selecting the main points/key ideas of the story
done by amanda
Visualising
Visualise the story in your mind.
done by amanda