Online Creative Toolkit
by
Helen Baxter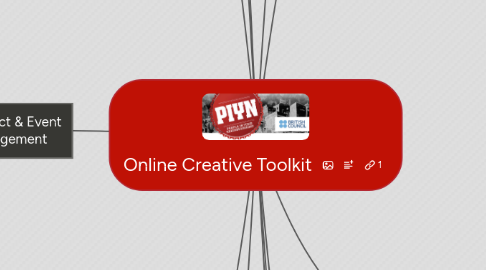 5.0
stars -
25
reviews range from
0
to
5
This presentation is from a workshop developed by Helen Baxter, Mohawk Media for the People in Your Neighbourhood project from the British Council in New Zealand, to enable young urban artists to produce, promote and sell their work. http://piyn.net
Live Streaming
Live video, audio, chat and social stream
Multiple DV or webcams
Live TV style broadcasts with baselines & gfx
Can run off a laptop
Under 11 mins can archive to You Tube
Qik.com
Stream or mobicast from your phone
Archived at Qik and You Tube (if under 11 minutes)
Qik demo
Branding & Identity
What's in a name?
Online ID, Brand, Username, Tag
Check Search engines, Google, Bing, Dogpile
Usernamecheck
Companies House
Trademark?, $100 + GST, Protects name & logo in NZ, Need to register Trademark in every territory, Own your Identity before someone else does
Your domain.co.nz, Whois?, .co.nz - $30 p.a.
Brands take to time to grow
Tagging & metadata, Tags & the Semantic Web, blogs, you tube, #twitter
Grow a large digital footprint
Focus on one brand
Track your feedback
Manage your brand
Media monitoring
Google Alerts, Track keywords in new, blogs, web, video, groups
twitter #tags
Create conversations
Social Media & Marketing
Work your social networks
33 Million People in the Room
Two way info flow
Follow your heroes
track #hashtags
Facebook
High value of intangible assets, The Whuffie Factor
Groups v Pages
Business networks
Ask questions, join groups, professional profile - CV
Cross posting
Post to multiple twitter, Facebook & linked in accounts
Track hashtags
RSS
Real simple syndication
Can read content using feed reader
Feedly for Firefox
Print On Demand
Music
CD Baby, CDs & Digital downloads, How much do artists earn online?, Music Industry & Online Piracy numbers, What they do, How it works, Derek Sivers
Musichype, brings music fans closer to the bands they love
Writing
Lulu.com, Books, Calendars
Fabric
Spoonflower, Custom printed fabric, No minimum order
Etsy, Your own craft store
Art
Imagekind
Designs
Ponoko, Jewellery, Furniture, Art,
3D Objects
Shapeways, "we bring your 3D design to life"
Shoes
Shoes of Prey, Design bespoke women's shoes
Indie Artists
Manage their own careers
Own their own copyrights
Creative Commons is a non-profit making organisation founded in 2001, to provide an alternative copyright system for artists in the digital millennium. On the Wikipedia entry on Creative Commons their focus is stated as 'Expansion of "reasonable", flexible copyright'. The Creative Commons Information Flyer (pdf) explains that CC Licenses are not an alternative to copyright. 'They apply on top of copyright, so you can modify your copyright terms to best suit your needs'. The end result is clearly defined terms of how a work is to be used, and a growing pool of legally remixable and mashable content.
CC is updating copyright for digital age
Updating copyright for digital age
Sits on top of copyright
Some rights reserved
Expresses how you want people to use your work
CC Databases
Search CC
Free Music Archive
Jamendo
Remixes & Mashups
Remix = Reworking audio, images or both
Mashup = Mixing two or more clips together
Publish some digital assets, Make it easy for fans, Run comps
Artists should fear obscurity not piracy
Sell it ...
Keep largest %
Multiple formats
Multiple Income Streams
Think series or universe
Create a sustainable, profitable creative career
Tshirts & Suits
Free ebook
Bootstrappers Bible
Free ebook
Who?
Helen Baxter is MD of Mohawk Media, producer of the g33k show on Kiwi FM, Teaching Fellow at Victoria University and author of the MsBehaviour Files at the Big Idea.
Group Introductions
Project & Event Management
Messages, Milestones, To dos, Writeboards & Campfire Chat
Free for one project
Unlimited users
Conversations through email
Assign and track tasks
Meetings
Google Calendar
Tungle, Scheduling application, Syncs with multiple calendars
Doodle
Collaborative content
Wiki format - revision history
Cloud based - never lose work again
Can work offline through Google Gears
Mindmeister
Collaborative brainstorming
Knowledge Mine
Best online collaboration tools
Crowdfunding, Merchandise & Donations
Crowdfunding
Raise funds from your fans
Crowdfund your Creativity
Indiegogo
Kickstarter
Cameesa
Paypal
Derek Sivers is the founder of CD Baby and says in his essay on paying, "Don't forget that there are lots of people like me that like to pay! Appeal to this side of people, giving them a feel-good reason to pay. Tell them what their payment will go to support. Show them how appreciated it is. Some will feel good about paying. It will actually make them happy to give you money. Let them."
Donations Buttons
NZ Donations & Fundraising
Sharing the Safari
Here's a tip from one of Zazzle's most successful sellers. "I earn a 15% commission on every sale for sending customers to Zazzle, even if the customer buys someone else's design. And if they buy mine, I make 35% on every sale."
Tshirts, Skateboards, Hoodies
Add storefronts to your site
PIYN Toolkit
#piyn tag
Indie Publishing
New Publishing Channels & formats
Podcasts
Webisodes
Online
Blogs, Blogger, Super simple, hosted by Blogger, Wordpress, PIYN 2010, Content Management System, Can be hosted at Wordpress or your own server, Can use your own domain name, Posterous, Publish to multiple spaces via email, the g33k show
Microblogs, Twitter, Tweet this Book, Tumblr, Short URLs, Bit.ly, Shorten, share, measure, Retweets
You Tube, Tag carefully for related links, Most views come from related links, Tube Mogul, Cross channel publishing & stats
Mobile
2 - 3 Minute Mobisodes
Vodafone Live!
Don't underestimate mobile markets, More mobiles than PCs globally, Watch / listen on the move, "In-Between Times"
Pixelpipe, Autopublish from phones
Online Identity
Online ID
GoogleID, Access to You Tube, GReader, Docs & Apps
Facebook ID
Open ID, One login across all sites
Twitter
Skype, Video & Voice over IP, with text chat, transcripts for meeting, interviews etc., Mohawk Media use for the g33k show on Kiwi FM - radio with pictures on Ustream