Scenario
by Ahmad Faqih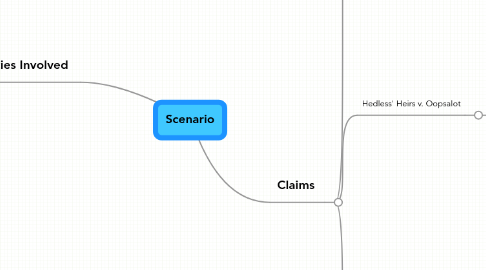 1. Persons/Parties Involved
1.1. Ramadamadingdong Oopsalot
1.1.1. Lives in Elbonia
1.1.2. Civil Engineer
1.2. Dilbert Design Corp
1.2.1. Designed building
1.2.2. Subcontracted most of design to Oopsalot
1.3. Ned Hedless
1.3.1. Decapitated by falling window from subject building
1.4. Hedless' Heirs
1.4.1. Suing Dilbert, Oopsalot
1.5. Expert Civil Engineer #1
1.5.1. For Hedless
1.5.1.1. "Any competent civil engineer should have known that the specifications were incomplete."
1.5.1.2. Introduces data that shows no glass panel failures in wind speeds below 20 mph
1.6. Expert Civil Engineer #2
1.6.1. For Oopsalot (From Elbonia)
1.6.1.1. "The expert for Hedless did not testify that the omitted specs led to the failure of the building to hold a glass panel in place."
1.6.1.2. "the subject building is better designed and built than any building in Elbonia."
2. Claims
2.1. Hedless' Heirs v. Dilbert Design Corp.
2.1.1. Professional Negligence
2.1.1.1. Elements
2.1.1.1.1. Act
2.1.1.1.2. Duty
2.1.1.1.3. Breach of Standard of Care
2.1.1.1.4. Causation
2.1.1.1.5. Injury (Damages)
2.1.1.1.6. Affirmative Defenses
2.2. Hedless' Heirs v. Oopsalot
2.2.1. Professional Negligence
2.2.1.1. Elements
2.2.1.1.1. Act
2.2.1.1.2. Duty
2.2.1.1.3. Breach of Standard of Care
2.2.1.1.4. Causation
2.2.1.1.5. Injury (Damages)
2.2.1.1.6. Affirmative Defenses
2.3. Dilbert Design v. Oopsalot
2.3.1. Professional Negligence
2.3.1.1. Elements
2.3.1.1.1. Act
2.3.1.1.2. Duty
2.3.1.1.3. Breach of Standard of Care
2.3.1.1.4. Injury (Damages)
2.3.1.1.5. Affirmative Defenses
2.3.1.1.6. Causation