French Revolution - Successes and Failures
by Sharon Lockard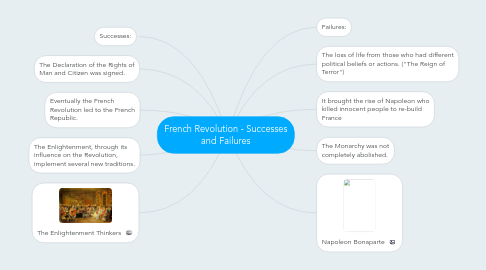 1. Failures:
2. The loss of life from those who had different political beliefs or actions. ("The Reign of Terror")
3. It brought the rise of Napoleon who killed innocent people to re-build France
4. The Monarchy was not completely abolished.
5. Successes:
6. The Declaration of the Rights of Man and Citizen was signed.
7. Eventually the French Revolution led to the French Republic.
8. The Enlightenment, through its influence on the Revolution, implement several new traditions.
9. Napoleon Bonaparte
10. The Enlightenment Thinkers