Mental Capacity Act 2005
by
Captain Walker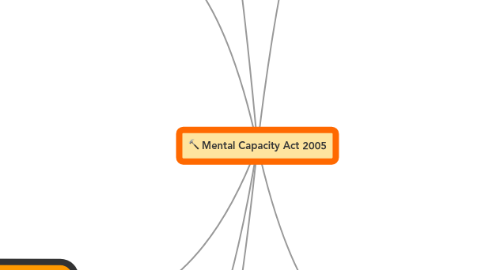 0.0
stars - reviews range from
0
to
5
Mental Capacity Act 2005
Overview
Full text
HMSO
Explanatory Notes
A new Court of Protection
to make new substitute decision-makers ('deputies').
The Act replaces all of Part 7 of the MHA 1983
Replaces all of the Enduring Powers of Attorney Act 1985
new statutory scheme for "lasting" powers of attorney which may extend to personal welfare (including health care) matters
Checklist for determining best interests
Liability for actions in connection with care of persons without capacity
sets out rules about advance decisions to refuse medical treatment
new safeguards controlling many types of research involving people who lack capacity.
Key features
Part 1 People who lack capacity
Principles
Preliminary, People who lack capacity, Inability to make decisions, Best interests, Acts in connection with care or treatment, Section 5 acts: limitations, Payment for necessary goods and services, Expenditure
Lasting powers of attorney
General powers of the court and appointment of deputies
Powers of the court in relation to lasting powers of attorney
Advance decisions to refuse treatment
Excluded decisions
Research
Independent mental capacity advocate service
Miscellaneous and supplementary, codes of practice
Part 2 Court of Protection and the Public Guardian
The Court of Protection
Supplementary powers
Practice and Procedure
Fees and Costs
The Public Guardian
Court of protection visitors
Part 3 Miscellaneous and General
Section 1: The principles
persons assumed to have capacity unless it is established that there is a lack of capacity
person not to be treated as unable to make a decision unless all practicable steps to help him to do so have been taken without success.
person is not to be treated as unable to make a decision merely because he makes an unwise decision.
An act done, or decision made, under this Act for or on behalf of a person who lacks capacity must be done, or made, in his best interests.
Before the act is done, or the decision is made, regard must be had to whether the purpose for which it is needed can be as effectively achieved in a way that is less restrictive of the person's rights and freedom of action.
Section 2: People who lack capacity
Section 3: Inability to make decisions
Inability if unable -
[3(1)a] to understand the information relevant to the decision
[3(1)b] to retain that information
[3(1)c] to use or weigh that information as part of the process of making the decision, or
[3(1)d] to communicate his decision by any means
Ability to understand
[3(2)] will exist if person can understand the information relevant to a decision if it is presented in a way that is appropriate to circumstances
Retention
[3(3)] - retaining relevant information for a short period does not negate person being regarded as capable of the decision
Section 4. Best Interests
Must consider
S 4(3), (a)whether it is likely that the person will at some time have capacity in relation to the matter in question, and, (b) if it appears likely that he will, when that is likely to be.
S4(6), (a) the person's past and present wishes and feelings (and, in particular, any relevant written statement made by him when he had capacity),, (b) the beliefs and values that would be likely to influence his decision if he had capacity, and, (c) the other factors that he would be likely to consider if he were able to do so.
Take into account
(a) anyone named by the person as someone to be consulted on the matter in question or on matters of that kind,
(b) anyone engaged in caring for the person or interested in his welfare,
(c) any donee of a lasting power of attorney granted by the person, and
(d) any deputy appointed for the person by the court,
S4(4)Must act
so far as reasonably practicable, permit and encourage the person to participate, or to improve his ability to participate, as fully as possible in any act done for him and any decision affecting him.
S4(5) Prohibition
Where the determination relates to life-sustaining treatment he must not, in considering whether the treatment is in the best interests of the person concerned, be motivated by a desire to bring about his death.
Section 9 - 14: Lasting Powers of Attorney
Clear statutory procedures for donor and donee
Powers may be granted to one or more legal persons
S 11- Clear statement of restrictions
S12 Gifts
S13 - Revocation
S14 - Protections for donee and others