Mental Capacity Act 2005
by
Captain Walker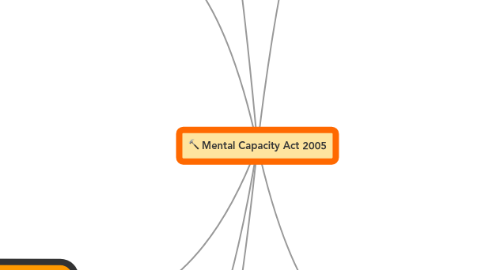 0.0
stars - reviews range from
0
to
5
Mental Capacity Act 2005
Overview
Full text
A new Court of Protection
The Act replaces all of Part 7 of the MHA 1983
Replaces all of the Enduring Powers of Attorney Act 1985
Checklist for determining best interests
Liability for actions in connection with care of persons without capacity
sets out rules about advance decisions to refuse medical treatment
new safeguards controlling many types of research involving people who lack capacity.
Key features
Part 1 People who lack capacity
Part 2 Court of Protection and the Public Guardian
Part 3 Miscellaneous and General
Section 1: The principles
persons assumed to have capacity unless it is established that there is a lack of capacity
person not to be treated as unable to make a decision unless all practicable steps to help him to do so have been taken without success.
person is not to be treated as unable to make a decision merely because he makes an unwise decision.
An act done, or decision made, under this Act for or on behalf of a person who lacks capacity must be done, or made, in his best interests.
Before the act is done, or the decision is made, regard must be had to whether the purpose for which it is needed can be as effectively achieved in a way that is less restrictive of the person's rights and freedom of action.
Section 2: People who lack capacity
Section 3: Inability to make decisions
Inability if unable -
Ability to understand
Retention
Section 4. Best Interests
Must consider
Take into account
S4(4)Must act
S4(5) Prohibition
Section 9 - 14: Lasting Powers of Attorney
Clear statutory procedures for donor and donee
Powers may be granted to one or more legal persons
S 11- Clear statement of restrictions
S12 Gifts
S13 - Revocation
S14 - Protections for donee and others