The Science of Learning
by
D Feher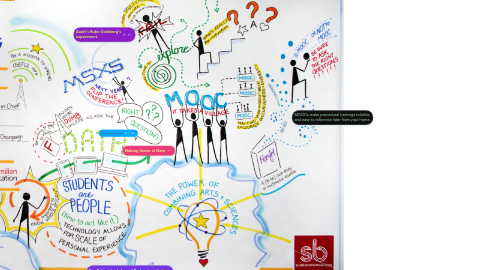 0.0
stars - reviews range from
0
to
5
MOOCs make procedural trainings tolerble and easy to reference later from your home.
See Robert Lue's LaunchPad project that merges biology and illustration at the micro-level.
Quick tips on using this mind map
download mindmeister app on mobile
Using Google Play or your iTunes store.
to reposition a text bubble
hold down the Cntrl button while you click on the text bubble. You should see an option to "Disconnect". Once you have disconnected you can move the bubble to a more appropriate location on the map!
sharing personal contacts
Please be careful in sharing your personal contact information. We recommend that you Tweet about the map using #scioflearningLIVE instead of supplying your name and email on this publicly editable resource.
More about Mariette
A science journalist for more than 20 years, DiChristina joined Scientific American in 2001. Before leading NPG/Scientific American, Mariette spent nearly 14 years at Popular Science in positions culminating as executive editor and the magazine's recognition in 2001's Douglas S. Morrow Public Outreach Award. Under DiChristina's leadership, Scientific American became a member of Change the Equation, a CEO-led initiative to cultivate widespread literacy in STEM in the US which is part of President Obama's "Educate to Innovate" campaign.
More about Susan
Susan is the vice president for marketing at Macmillan Higher Education.
More about Tim
Tim Stelzer is an Associate Professor of Physics at the University of Illinois - Urbana. A high-energy particle theorist, Professor Stelzer's work focuses on standard model physics at hadron colliders. He is the primary author of MadGraph®, a software program that automatically generates Feynman diagrams and led the development and implementation of assessment tools for educational innovations expanding the use of the web to teach Physics.
More about Robert
Director of Life Sciences Education and Professor of the Practice of Molecular and Cellular Biology. He received his PhD in biology from Harvard and has taught undergraduate courses here since 1988. He has a long-standing commitment to interdisciplinary teaching and research, and to increasing diversity in science. He chairs the Board of Life Sciences Concentrations, which oversees a cluster of nine undergraduate concentrations. As the Faculty Director of the Harvard-Allston Education Portal, he oversees the integration of undergraduate education with community outreach on Harvard's new Allston campus. He also serves as the faculty director of HarvardX, part of a new online education platform that provides courses from Harvard and other top-tier universities to individuals around the world.
Genesis of the project
This project is the brainchild of Macmillan New Ventures, Scientific American and Google for Education, building upon the discussion panel of the same name held on March 9, 2015 as part of the SXSW Edu conference in Austin, TX.
Special thanks
A special thanks to the Google EDU team, especially D Feher and Helen Hwang who inspired this living resource, and to Rachel Spirer would gave it a home within Scientific American.
This living resource builds upon work from
Robert Lue (Harvard University), Tim Seltzer (University of Illinois), Susan Winslow (MacMillan Higher Education and Mariette DiChristina (Scientific American)
How to add your voice
To add a comment or citation, position the cursor on the related topic. Click on this text bubble. Then double click on the "+" sign located in the upper right quadrant of the browser window. A line connecting the primary text and your not yet completed supporting text should appear.
opinion or comment on another person's contribution
Add your comment to a comment by clicking on the related text box and then the conversation bubble icon on the right vertical menu beneath the icon library.
Click on the text box you would like to cite, and then click on the arrow icon pointing right in the vertical menu bar. Click the checkmark icon when finished.
videos
Click on the text box you would like your video to reference, and then click on the arrow icon pointing right in the vertical menu bar. Ensure your video is already uploaded to YouTube to provide the corresponding URL. Click on the checkmark icon when finished.
Audri Clemen's Rube Goldberg machine inspires me to keep better documentation and accept failure as part of the iterative process to get things right! He states a hypothesis, he modifies his experiment and celebrates his success. It is a MUST watch.