Microsoft and Macromedia Programs and Websites
by Jesse 4th Period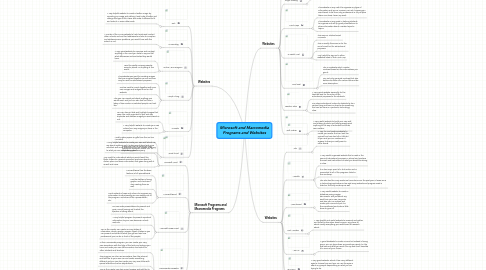 1. Microsoft Programs and Macromedia Programs
1.1. Microsoft Word
1.1.1. Mostly make papers or gifts from the On-line Microsoft.
1.1.2. Makw your own ID cards, gift tags, brachures, evelopes, letters, etc. for business or your company.
1.1.3. Very useful to make about what you would want like flyers, letters to a special someone, brochures about a certain place and some information that goes along with it as well and more.
1.2. Microsoft Excel
1.2.1. Microsoft Excel has the basic features of all spreadsheets.
1.2.2. Has the abilities of using graphs, and charts and also creating them as well.
1.2.3. Has hundreds of rows and colums to oragnize any information to what exactly you are making out of this program, and show off as a presentation, etc.
1.3. Microsoft Power Point
1.3.1. You can make presentations to present and give a visual hearing aid to what the speaker is talking about.
1.3.2. A very helpful program to present important information to your own business, school, work etc.
1.3.3. You as the creator can create as many slides of infomation, charts, graphs, images, clipart it takes so you can present and show off what you got and see how professional you can be in front of the people.
1.4. Macromedia Fireworks
1.4.1. In this Macromedia program, you can create your very own animations with the help of the tools and options you have and make your own little animaton to show off to other students and teachers.
1.4.2. This program can also use animations from the internet and edit the to your own use and create something different and you can also create your very own titles with special effects and colors adjustments.
1.4.3. You as the creator can also import images and edit the to your own use make them different and also tehn you can export them and save them as something different than when you had imported the first time.
2. Websites
2.1. Pixlr
2.1.1. A very helpful website to create a better image, by importing an image and editing it and make it better and change the type of file it was and make it different to fit and make it in some other work.
2.2. SAISD Blog
2.2.1. A Center of the SAISD website to help locate and contact other schools and and find addresses and also to complain and address serious problems you would have with the school or not.
2.3. Online Venn Diagram
2.3.1. A very great website to compare and contrast anything in the mind you have to say and tell what differences and similarites they would have.
2.3.2. Used to mostly compare people, animals, places, or anything in this world.
2.4. Morph Thing
2.4.1. This website was used for creating images that are morphed together as one and was very fun and for educational purposes.
2.4.2. Can be used to morph together with your own images and images found on the website.
2.4.3. Also you can morph just about anything you would want, and you can also find out how a baby of two random or selected people can look like.
2.5. Animoto
2.5.1. You can also put text and highlight images that seem the most important to you and also duplicate and deletes images you would want or not.
2.5.2. A very helpful website to create your own videos from any images you have in the computer.
2.6. Word It Out
2.6.1. A very helpful website to create your own wall which can say about anything and it makes words stand out more excellant and more decorative and has a better meaning to what you are really talking about.
3. Websites
3.1. RivalArt.com
3.1.1. This website was used for getting the mascot of the school and many other animals and pride and use them in making ID Cards and also used in Fireworks to adjust them and use them for somthing else in another project.
3.1.2. This website has many uses for creating something doing with the mascots and the pride in which you have.
3.2. Fright Catalog
3.2.1. This website was used to get masks and accessories to help design and create some certain projects having to do with politics and Halloween.
3.3. Mind Maps
3.3.1. This website is very useful to orgainze any type of information and you as a person can set it anyway you would want to be from very professional or to just plain there i am done, here's my work.
3.3.2. This website is very good in helping students to organize and set up good presentations to show information about a certain topic/or topics.
3.4. IP Switch Mail
3.4.1. This was our Student Email Accounts.
3.4.2. This is exactly the same as for the use of email but for educational purposes.
3.4.3. Very helpful to sign up to other websites listed in this Mind Map.
3.5. Cool Text
3.5.1. This is a website which creates CoolText based on the informations you give it.
3.5.2. Can not only generate CoolText but also buttons to show off a certain title and be more descriptive.
3.6. Teacher Tube
3.6.1. A very good website especially for the teachers and for the more of the educational purposes to the students.
3.6.2. Can show educational videos to students to do a certain thing and learn on how to do something that can be done in a particular technology class.
3.7. Wall Wisher
3.7.1. A very useful website to build your own wall and making it public and letting people post anything to the way of education and their own matters.
4. Websites
4.1. Voki
4.1.1. A very fun and creative website to create your avatar that can look like yourself and can also talk a little bit of you and you can customize it anyway to how you really want in other words.
4.2. Moodle
4.2.1. A very useful organized website that is used in the name of educational purposes in school and contains the work and instructions of what you should be doing in class.
4.2.2. It is also major point of a link center and is connected to all of the programs listed in this mindmap.
4.2.3. This also has the many works we have done over the past year of 2009-2010 in technology applications class and every website and program used is listed iin this very mindmap as well.
4.3. VoiceThread
4.3.1. A very useful website to create a slideshow using images, documents, and just about any work from your own computer and also you can upload and create your voice and put it in the voicethread and make a little show to give off.
4.4. Fact Monster
4.4.1. A very heplful and useful website to research and gather and collect information about anyone, any place, or about mostly everything you would want to research about.
4.5. Voz Me
4.5.1. A good dwebsite to create a voice but instead of using yours, you can type down any words you want it in the text box and what you want it to say and it will translate it to voice of your choice.
4.6. 9MMSFX
4.6.1. A very good website, which it has many different eyes to choose from and you can use the eyes in about any project depeneding on what you are trying to do.
4.7. Jam Studios
4.7.1. This is a very cool website to make your own music in any way you would want.
4.7.2. This website can also supply some music of a certain song that you may know or may not know at all and make some starting beats, but then you have to finish it yourself in the end and see how it will sound in the end.
4.7.3. By making your own music, you can put it in your own type of device and also put it in your presentations and your work and makes it more interesting to hear and look at.