2010 NBBL
by
Siam Milans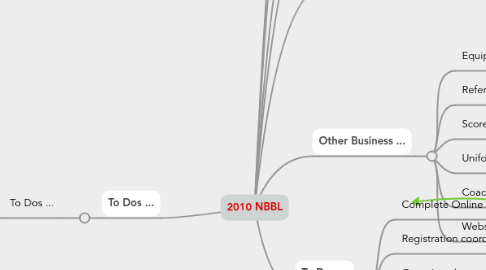 0.0
stars - reviews range from
0
to
5
2010 NBBL
To Dos ...
To Dos ...
Personal, 2009 NBBL stationary expenses, 2009/2010 BYAC domain registration expenses
Board roles & responsibilities
2009 receipts/records from Anita
Volunteers Survey
Finances
2009 Statement
2010 Budget
Cost cutting ..., sponsors?, reuse jerseys, photos / awards, BYAC related fees ...
New expenditures ..., online registration fee, Coaching Clinics
Schedule
Overview
Registration
Online Registration
Swimmers?
Timing: Registration / Assessements
Grade-based , move to age-based next year
Organized "Fun Day" during registration
Assessments / Team Formation
assessment methodology?
team formation methodology?
Other Business ...
Equipment & Facilities
Facilities, Nurse / Medical Supplies, Courts/Gyms Setup, Emergency Contact info / procedure
Equipment, Basketballs, Size 6, Size 7, Digital Scoreboards/Clocks, 2 (NBBL), 4 (ISB), 2 (PTA ???), Practice Cones, Scrimmage Jerseys, Coaching Materials, Whistles, Clipboards, Court Diagrams
Referees
Scorekeepers/Timekeepers
Uniforms
reuse?
Coaching Clinics
Website / Communications
To Dos ...
Complete Online registration, web site, draft schedule >>> communicate
Registration coordinator >>> organize registration session
Organize player assessment / team formation methodology & timing
Coaching Instruction
Staff up! (1) DCs and Coaches, (2) Additional board members